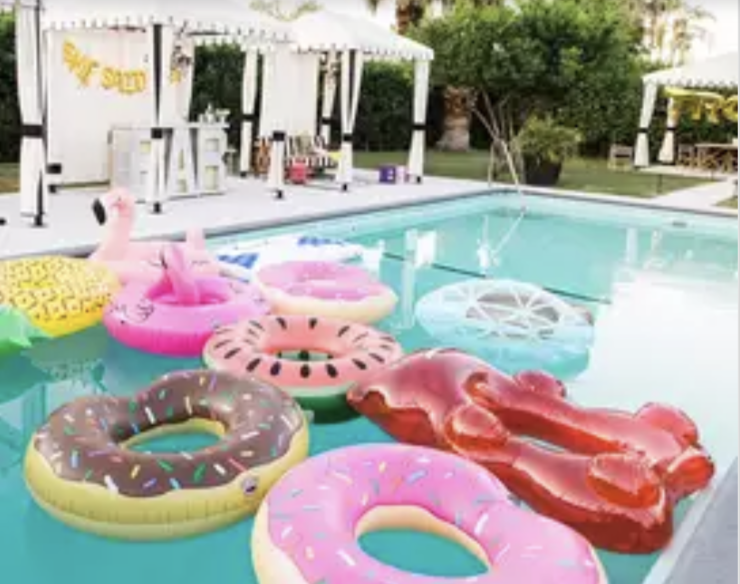 Wedding season is in full force right now, which means bachelorette parties are happening too. A great bachelorette party is all about having fun, celebrating friendships and making great memories that will last far after the day is over.
While memories are always priceless, it is nice to give a gift to the bridesmaids who are going to be standing by your side. They are not only taking time out of their own lives to be there for you but are investing quite a bit into the whole celebration too.
You have likely selected them to be a bridesmaid because they mean something in your life and you really care about them. So while you are not required to get them a gift for your bachelorette party, it is a really thoughtful gesture that will definitely be appreciated by your girlfriends.
Regardless of if your bachelorette party is taking place by the beach, in the mountains or out in wine country, there are the perfect bridesmaid's gifts to get for every location and budget.
The gifts can be something that is themed around your wedding, a piece of jewelry that they will wear on your wedding day, or a keepsake like a photo frame or custom lapel pins.
No matter what type of bride you are, the theme you are wanting to have for your bachelorette party, or the number of bridesmaids you have, here are some great party favor ideas that the gals will love—and will truly be one of a kind gifts to remember the fun weekend by.
1. A Spa Basket
Weddings are fun, but sometimes the build-up to the big day can get a bit stressful. Your bridesmaids are likely going to feel a bit of stress too, so why not gift them something that will help them relax, rest and feel rejuvenated? A spa basket full of scented candles, lotions, serums, bath salts and face masks will help your bridesmaids feel pampered.
Plus, if you plan on having a wild bachelorette weekend, then this spa basket will also help your bridesmaids recover from the big night on the town and get some well-deserved rest after celebrating you all weekend long.
2. Tote Bags
Chances are that your bachelorette party will require some sort of traveling to take place—whether it is a day trip or something a bit longer than that. Giving the girl crew a cute tote bag is a practical gift that you can also have fun customizing. You can create a special logo for it, get their names etched in, and even fill it with tons of goodies for them too.
The range of tote bags out there means that you can also find one to compliment whatever your theme is for the bachelorette weekend. It will serve as a cute reminder of the whole celebration for years to come too, with tote bags serving practical purposes for any shopping or travel occasion.
3. Custom Pins
This small but impactful gift will be super unique and something that all your bridesmaids will love to wear. You can design your special pin to even include their name on it or the hashtag of your wedding, with it being small enough that it is simple to bring it with you to the event.
Plus, the pins can then be worked by your bridesmaids at the wedding too. With it being small enough to not detract from anything else your gals might be wearing, it is the perfect subtle and unique gift to commemorate this passion-filled celebration.
4. Champagne and Holders
Chances are that your bridesmaid weekend will involve some drinking. So why not kick it off in style by getting all your bridesmaids their own personal champagne bottle and custom drink holder to sip out of? The drink holder will be something they can use all weekend long and equally use back home too. Being drunk and in love has never been so stylish.
5. Custom Perfume
We remember the good memories through our senses. So why not pass out custom perfume to your bridesmaids as a unique gift? Not only will they all have matching scents, but equally be reminded well into the future too about the delicious time they had celebrating you. You can even get really cute in how you design the perfume bottle and make it match the theme of your bachelorette weekend. Think pineapple perfume bottle for the beach bachelorette theme.
6. A Hangover Kit
If you plan on partying the weekend away with your bridesmaids, then what better gift to give them than an actual recovery kit? Filled with hydration kits and other hangover remedies to get them feeling great again, this gift is not only thoughtful but likely essential too.
Conclusion
Your bridesmaids spoil you. So why not return the favor and spoil them with these unique gifts?