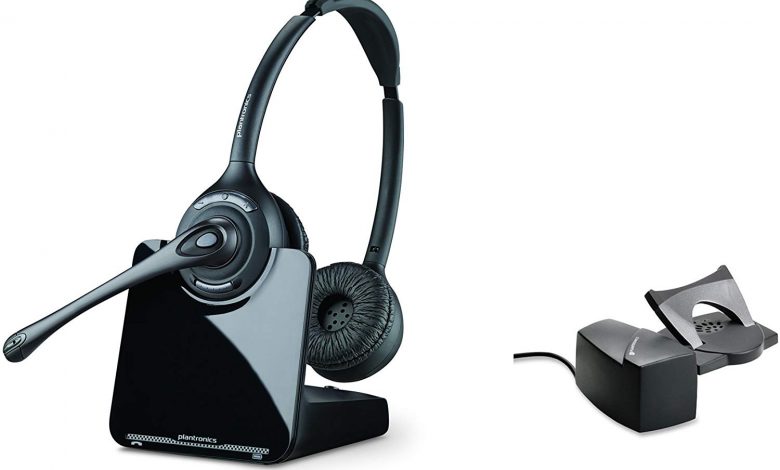 Plantronics is one of the bestselling brands when it comes to headsets. Whether you need binaural or monaural headsets for call centers, home or business use Plantronics CS Series headsets are an ideal choice for you. CS Series are wireless high-performance headsets ideal for working in a busy office environment. They are engineered with the latest technology to provide you with efficient and effective telecommunication. They are easy to use and easy to set up no matter where you want to use them. Here have a look at the best headsets of the Plantronics CS series for quality sound.
Plantronics CS540-xd Wireless Headset
Plantronics headsets are an ideal choice for personal and professional use. They are effective in making your conversational experience better and clearer than before. These headsets present high-quality sound with wideband audio quality which includes superior technology that eliminates WI-FI interference. They are integrated with DECT 6.0 technology allowing you to clearly communicate. They present a wideband frequency that communicates up to 350 feet away from your desk. They are sleek and elegantly designed to be worn in any style of your choice. They are comfortable to be worn over-the-ear, around-the-neck, and over-the-head into your desired position. They provide about 6 hours of talk time and a wireless frequency range of 350ft. They provide you perfect freedom to move around the place and stay connected with your devices without any inconvenience.
These Bluetooth wireless headsets are excellent in providing you the best quality sound. They are ideal for office and desk-centric workers as they are simple-set-up and simple-to-use. They are light weighted with 94grams and laser-welded constructed which makes them reliable and durable for office use. They are engineered to endure office punishment such as a sudden fall, sharp objects, and wheels of the office chairs. They are built with DECT 6.0 technology that aims to provide you natural sound no matter wherever you are. They are integrated with noise-canceling technology that eliminates all sorts of background sounds so you can have clear sound. They supply you 9 hours of talk time and a wireless range of 350ft. They are integrated with Sound Guard that protects your ears against sound levels above 118dBA.They come with a 1-year warranty from the manufacturer which avoids early replacements.
Plantronics CS510 Wireless Headset
This wireless headset is destined to be a new standard in DECT (digital enhanced cordless telecommunication) technology determined to provide superb audio and eliminates interference from WI-FI networks. They are elegant and light-weighted with one-touch call controls to answer/decline, mute and volume adjustments. They provide an excellent wideband frequency of up to 350 feet. The wireless offering supplies you with the freedom to move around the building without being disconnected from your devices. They are made with a one-ear-sided design which is feasible for the users who want to stay in touch with their surroundings. The ear-cushions are made out of soft foam leather that comfortably sits on-ear contours and does not irritate the skin even.
Plantronics CS530/HL10 Wireless Headset
These Plantronics wireless headsets are legends of the CS family. This small device contains everything that you need to hear a quality sound. They are engineered under audio professionals who understand the demand of the customers and thus accordingly. They provide you superior comfort in a small design. They are extremely lightweight with over-the-ear wearing style and have dedicated voice control buttons. They can be easily connected with various devices by Bluetooth technology. They provide about 6 hours of talk time and a wireless frequency of 350ft. The DECT technology eliminates all the WI-FI interference so you can enjoy smooth and distortion-free sound.