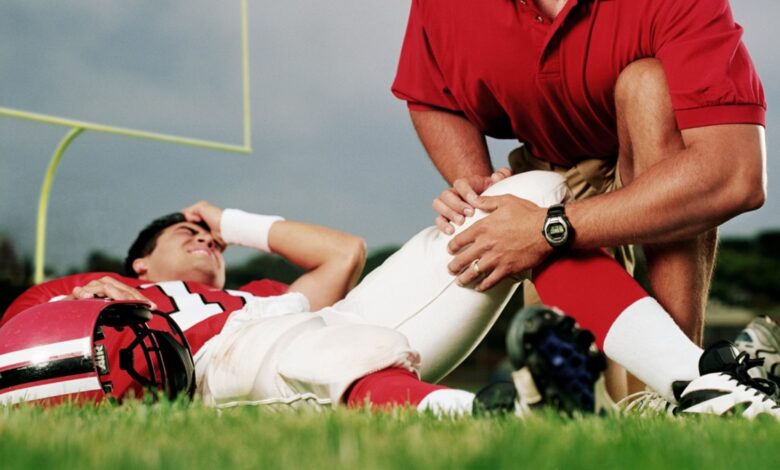 In this modern, hectic, and competitive world, where no task is less than a rat race to reach the top, the journey to success can have its ups and downs. From the Joyful bliss days of signing a deal to the aggravating circumstances of filing a lawsuit, we start losing our saneness. Every single individual in this world has a guilty pleasure physical activity that helps to keep him/her in one's right mind. Mostly these physical activities are influenced by nature's wind and the ocean's water. Some people like to go for a run, a long swim, jog, Paintball, tennis, soccer, gym, and whatnot.
These make an individual an active adult who is likely to be aware of the famous saying "No Pain, No gain." Every once in a while, there are chances of getting injured during these physical activities. Ankle sprains, knee injuries, tendonitis are just a few common injuries that likely can happen to even a Non-athlete. If you happen to suffer from any injury acute or chronic caused due to physical activity or a sport, you must visit a Sports medicine doctor.
Who is a Sports Medicine Doctor?
A sports medicine doctor has medical expertise and training in sports participation, physical activity, and injuries caused due to them. They focus on helping you to recover from injury alongside guiding you to improve your performance and prevent future injuries. Sports medicine doctor understands the goal of an active lifestyle and hence helps you to recover faster without the need for surgery of a bunch of pills. A sports medicine doctor can be a physician, surgeon, or a nutritionist or physical therapist.
5-Reasons to See a Sports Medicine Doctor
1. Sports Medicine Doctor always recommends alternative treatment
Sports physicians keep the surgery as a last resort. They are trained in the practices of alternative forms of treatment for both acute and chronic pain. They might opt for methods like physical therapy or stem cell injections for pacing up the recovering process, but they will never recommend a surgical procedure until and unless it is the only way out left.
2. Sports Medicine doctors are Rehabilitation specialists
Medical Rehabilitation includes practical management skills to diagnose, treat, and rehabilitate the musculoskeletal injuries caused by physical activity and sports. Sports physician has the expertise for creating a personalized rehabilitation program that ensures the injuries will heal correctly while holding on to the flexibility and arc of motion.
When people suffer from common injuries like an ankle sprain, neck, shoulder, or knee injuries which can heal on their own. During the process, they usually forget to move other body organs making muscles stiff. Sports doctors can recommend simply at home exercises and stretch to improve their overall well-being. Apart from the exercises, he can suggest massage therapy and occupational therapy as well.
3. Sports Medicine Doctors provides Customized care & Pain management Plans
Having an in-depth knowledge of how exercises can impact the injury and the patient's body is essential for a sports physician. Hence, they often collaborate with Physical therapist or sports coaches to design a customized care plan for an individual.
Sports injuries sometimes can lead to severe orthopedic complications if not attended with proper care. Sports experts often guide an individual on the pain management tips and tricks that they can do at home for a better recovery procedure. If the pain is severe, they have options like electrical stimulation, spinal decompression, and prescription medications to help their patients prevent the need for surgery. Proper pain management tactics if timely applied will help patients to dive back in their daily activities without any hindrance.
4. Sports Medicine doctors help in improving performance in the sport/physical activity.
Sports medicine doctors could be any individual having either of an orthopedic, Physical therapist or Nutritionist background. They sometimes collaborate and be a team of professionals to provide a comprehensive approach to sportspersons who wish to improve their performance both on and off the field. The walks you through the techniques to improve strength, stamina, and flexibility by following exercises and diets specially designed for an individual's body type.
5. Sports Medicine doctor provides Preventive care for injuries
Sports doctors provide an expert's opinions on how to prevent a sports injury. Vising a sports doc before starting a new physical activity is always the best idea. This is a chance to get to the following done:
– Physical exam to know whether the chosen activity is safe for your body
– Advice on how to train safe and operate and handle equipment involved if any.
– Getting a diet plan for this healthy lifestyle
– Knowing how exactly to Build strength and mobility.
– Getting a custom weekly warm-up, workout, and cool-down plans
How do I find a sports medicine doctor?
Asking from a reference form friends, family and general healthcare practitioners is a good start. And visiting Sports medicine doctor in Fort Myers, FL's office is a great start. We are a team of professionals who have already served thousands of happy clients. Our in house Sports medicine doctor and their programs include diet plans, custom workouts, and periodic evaluations. Visit us today to book a free appointment.