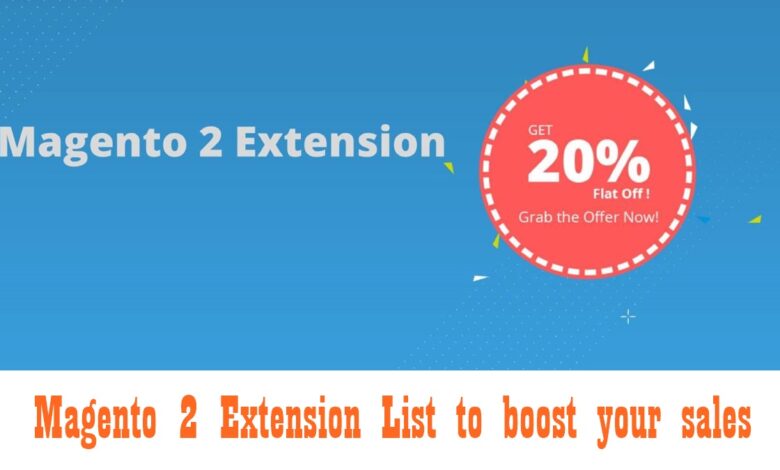 Many Magento store owners will jump from their seats by looking at the post heading. Why do I need to install additional Magento 2 extensions? Isn't Magento 2 the best, powerful and ready-to-use ecommerce platform? Haven't they covered and solved all Magento functioning issues in this new Magento 2 platform? Well, all your questions are worth asking for and we will give detailed answers to them.
Yes, Magento 2 is a powerful, ready to use and comprehensive ecommerce platform. Yes, it has been developed in a manner that all the previous Magento issues and loopholes are covered. However, in the IT industry, comfort and convenience are two key things that give birth to new inventions and innovations regularly.
In addition to that, the ecommerce store is not restricted to a specific industry. Storeowners can sell medical or healthcare equipment and baby clothes too. Also, merchants have their expectations from their ecommerce businesses. Obviously, for the Magento community, it is quite impossible to address all these expectations in their solution. A particular feature might be important for one merchant, but useless for the other. It might create complexities within the platform.
Developing a custom Magento 2 extension to address a particular issue is the best and right solution to improve efficiency and user experience. With custom Magento extension development, the needs of merchants will be identified and addressed perfectly by developing small pieces of code. We can call it "Extension".
Once developed, these extensions can be installed in the store to improve efficiency and to enhance the functionality of your Magento 2 store. You can also improve your customers' experience during their visit to your store and encourage them to take the required actions.
If you check out the Magento Marketplace, there are 3000+ Magento extensions listed there. Which are the extensions that you must install for your store? We have discussed top 10 Magento 2 extensions for ecommerce from Elsner.
Shopping Mentor Magento 2
The first Magento 2 extension is Shopping Mentor extension that can guide customers when they are on the store. Sometimes, due to a wide range of products available at the store, customers get confused and abandon the store without purchasing anything.
However, the shopping mentor extension can help customers by guiding them throughout the journey. The shopping mentor extension will ask a list of questions to customers relevant to their product preferences and offer 4 to 5 options to choose.
Once the questions are over, the shopping mentor algorithm will analyze the customer's requirements and offer a product recommendation list based on answers submitted by the customer.
Blur Image Lazy Loader Magento 2
It has been noticed that websites with large images take a lot of time to load. It might lead to customers leaving the store due to impatience. With the Magento Marketplace Extension called Blur Image Lazy Loader, you can improve the loading time of the website.
This extension also reduces the server bandwidth usage and is SEO-friendly too.
Advance Report Magento 2
The Advance Report Magento 2 extension is what you need to monitor the performance of your Magento store. It acts as a powerful analytics tool to keep a sharp eye on various metrics to measure the success of your store.
When you have all the key performance metrics with you, you can design a powerful, results-driven sales and marketing strategy to take your business to the next level and to address pain points.
Some of the reports this extension offers are advanced summary reports for sales data, sales by payment method report, and others.
You can get reports on your email by setting cron and it also allows you to configure which reports you want to see regularly. Also, you can verify new promotional campaigns with this extension as it gives the overview of the customer's country with maps.
Paypal Multicurrency Magento 2
When customers proceed to the checkout page for payment, Magento store replaces the selected currency with the base currency of the store, confusing customers. There are chances that customers will abandon the website without paying, resulting in no revenues.
With the Paypal Multicurrency Magento 2 extension, customers can make payment in a currency of their wish and turn, improve the user experience. Now, you can accept payments from customers from any country with this extension.
It will also increase your revenues and profits as users will find it more convenient to pay in their preferred currencies. The extension allows customers to use all currencies with Paypal standard and Paypal Express payment method.
Paytrace Payment Gateway Magento 2
A time consuming online payment process is a pain point for merchants as it might make customers furious and frustrated. Also, when a customer abandons the payment page, all your marketing efforts go in vain. Merchants must ensure that the payment process is fast, efficient and without any hassles.
Paytrace Payment Gateway Magento 2 extension can make it possible. It ensures automatic payment without any delay, making customers happy and content.
Paytrace is one of the renowned payment gateway provider offering superior, secure and user-friendly payments processing services. It is also a PCI certified company with more than 35,000 clients across the globe.
With the direct transaction methodology, customers don't have to leave the store to make payment. It will be done automatically on the checkout page and customers will be notified through a message or email. It utilises Paytrace JSON and Paytrace Post APIs and is compatible with Magento 2.2.x, 2.3.x and 2.4.x. You can download this extension from Magento Marketplace Extension Store.
Monetico Payment Gateway Magento 2
Monetico is one of the most proficient and customised payment gateway that can be integrated into your online store. It can be customised as per your industry standards and sales volume. You can install this extension to support the sanction method payment page. With this extension, the payment fulfilment occurs on the Monetico's redirected payment page. Furthermore, it allows you to accept payments at any time from across the globe, irrespective of geographical boundaries and time zones.
Magento 2 Marketplace Extension is a fully automated payment process with automatic payment updates. Moreover, it also offers secure codes to enhance payment security. Also, it offers better customer service.
One Step Checkout
One Step Checkout is one of the most influential Magento 2 extensions that can handle all types of complex checkout processes under one page. Customers will be able to complete the transaction within a minute, thus saving their time and efforts.
Here, with this Magento 2 extension, customers can fill required information such as shipping address, payment method, shipping method and others within a single page. It will save time and also improve the user experience. It also allows auto-filling address facility with Google photos and built-in delivery date feature with calendar and instruction field. The extension is also compatible with 3rd party modules.
Conclusion
All Magento Extensions for Ecommerce business are developed to improve the convenience and comfort of merchants and customers. By installing these extensions in your Magento ecommerce store, you can help customers to find, select and check out products quickly and accurately without confusing them further. Using these extensions will also improve brand recognition and loyalty as customers would enjoy the experience of dealing with your store, resulting in frequent visits.