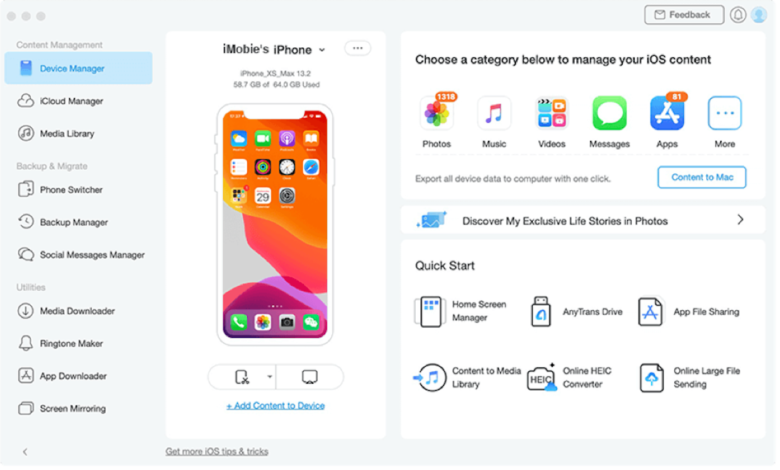 Have you upgraded to iPhone 12 lately? Well, congratulations! Now that the purchase has been done, it is obvious that you would want to transfer all that your previous phone has to your brand new iPhone. After all, all the lovely memories and important data need to stay intact on the new device, right?
Is the task of moving data from your old phone to the new iPhone difficult? Not with AnyTrans. It is an all-in-one manager for apple devices. It literally lets you migrate stuff from your old iPhone or Android phone to the new one in one simple click.
Make a transition to iPhone 12 easily and seamlessly with AnyTrans
AnyTrans works well as the following:
Phone switcher
All your photos, favourite songs, messages, contacts and everything else can be easily transferred to the new iPhone in one go. And the list includes apps as well. This way you won't have to waste your valuable time in re-downloading all the apps on the new iPhone. AnyTrans makes the transfer from one iPhone to another or from an Android to an iPhone very easy.
Device manager
It is quite easy to move data between iPhone, iPad, iPod, iTunes, iCloud, and computer. With AnyTrans, you can even transfer content from an Android device to your iPhone 12.
iTunes library restriction remover
The tool frees you from the restriction of iTunes and lets you move music files across iOS devices, computer and iTunes. You can literally drag and drop the music to your new iPhone 12 without losing existing songs. The music library of the old device can transferred to your new iPhone 12 in just one click.
AnyTrans is the best tool for managing your iPhone data
Photos are indeed special as they capture a glimpse of your life at a particular point of time. However, it can be really difficult to manage iPhone photos and videos and export them to a computer. AnyTrans provides relief from this problem and manages all photos and videos by organizing them into different folders such as live photos, selfies and the albums you have already created. This will help in locating the photos you want and move them to the computer with one simple click.
Even your WhatsApp conversations can safely be moved with all the attachments intact. You can create a backup of the chats on your computer for safety or simply transfer it to your new iPhone.
Back ups are easy with AnyTrans. When compared to iTunes, AnyTrans can back up 10 more types of files and safeguard your data. Even you can choose how you want the backups to be. An incremental backup gets only the data that has been changed or added since the last backup. This way you will be saving a lot of space on the disk and of course your time. You can schedule AnyTrans to back up your iPhone 12 wirelessly by itself daily, weekly or as per your convenience. The best thing about this tool is that it gives importance to your preferences. This will be of great help in case you lose your important data and don't know in which backup it is stored. AnyTrans lets you preview a backup and extract just what is needed. Also, the existing content will not get erased. Therefore, you know where to get the lost data from when you have AnyTrans.
Other features that make AnyTrans a must-have for your iPhone 12
Here are the some more really exciting features that AnyTrans has to offer,
It works well as a ringtone maker
With AnyTrans you have the freedom to create your own ringtones and text tones. The user interface is extremely friendly and lets you cut a portion of a music track or song by simply moving sliders. You get the preview of the audio clip right away so that you can tailor it to perfection without any glitches. The whole experience is smooth and seamless. The tool supports different file formats like mp3, m4a, m4r, wma, wav, flac and most others for this purpose. You won't have to depend on a ringtone maker app when you have AnyTrans.
It is a great media downloader
The experience of watching online videos on an iPad and iPhone is a truly thrilling experience with the world-class display and stereo speakers of the devices. With AnyTrans you can now enjoy them at any given time. It lets you download online videos and music files straight to your iPad, iPhone or PC so that you can enjoy watching them even when there is no internet connection. All you need to do is copy the URL of what you want to watch, the tool will then take over and download the videos for you. The video clips will be then converted to iOS compatible formats so that the quality is not affected.
It is a good app downloader
When you have multiple iOS devices, it can get tough to download or update all the apps one by one. To help you out, AnyTrans can download and update apps in batches on your computer and install all of them to your iPhone, iPad, and iPod by just one single click. This can prove to be a huge time-saver.
It helps with screen mirroring
You can use AnyTrans for iPhone screen mirroring, recording the screen and capturing screenshots easily in just one click. This will be done using your computer and it will not slow down your iPhone.
It seems to be a great tool for those who want to record lectures, TV shows or the operation on the iPhone to make a tutorial. There is no upper limit on the recording time along with no watermarking so that the quality of the recording does not get affected by any means.
In conclusion, it can be said that AnyTrans is definitely a great tool for you if you have iOS devices.
There is an exciting giveaway for AnyTrans users in which you can get an opportunity to win a swanky new iPhone 12. All you need to do is share the story of your first iPhone. Do participate in this giveaway and grab the chance to win iPhone 12.