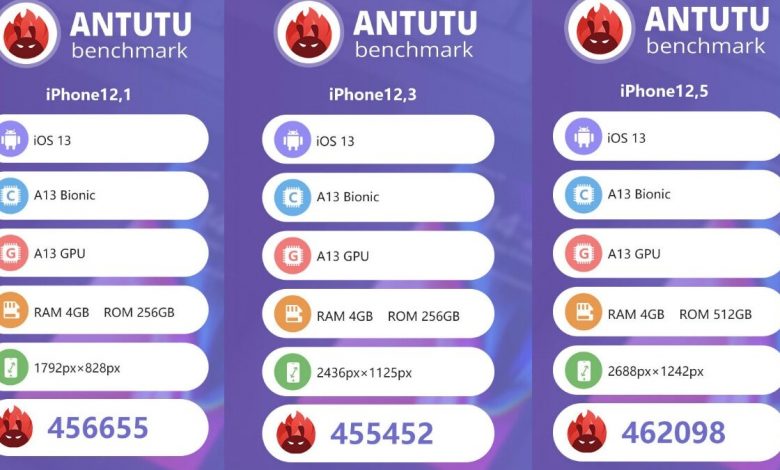 After the recent launch of the iPhone 11 series, there have been various reports and tests of the phone. The phones recently undergo AnTuTu benchmarking tests. The tests were to determine various features of the phone and it shows that iPhone 11, iPhone 11 Pro, and iPhone 11 Pro Max all have 4GB of ram. While the company does not clear the ram variation in the phone and it was rumored to be 6GB but the latest test revels that it has 4GB ram. It also reveals that iPhone 11 Pro Max will support 512GB internal storage along with 4GB ram.
AnTuTu also shares the results for the benchmark of iPhone 11, iPhone 11 Pro, and iPhone 11 Pro Max on the Weibo website. All the scores for the performance of the smartphone were quite close to each other. The iPhone 11 runs on A13 Bionic Chip. From the base models to top models all of them support 4GB rams options.
The scores for iPhone 11 Pro Max were 462098, iPhone 11 scored 456655, and iPhone 11 Pro has a score of 455452. According to the benchmarking site, the iPhone 11 series showed 28% improvement in its performance from its previous versions when compared to its previous model iPhone XS which costs around Rs 89,900. All the things like CPU, GPU, MEM, and UX see improvement in its performance.
The newly launched models of iPhone, iPhone 11 Pro will cost you about Rs 99,900, iPhone 11 Pro Max will have a starting price of Rs. 1,09,900 and iPhone 11 will be available Rs. 64,900. All the models of the phone are going on sale on 27th September. The phone has a unique dual and triple camera setup and also has a wide notch for selfie sensor. It will run on the latest iOS 13.