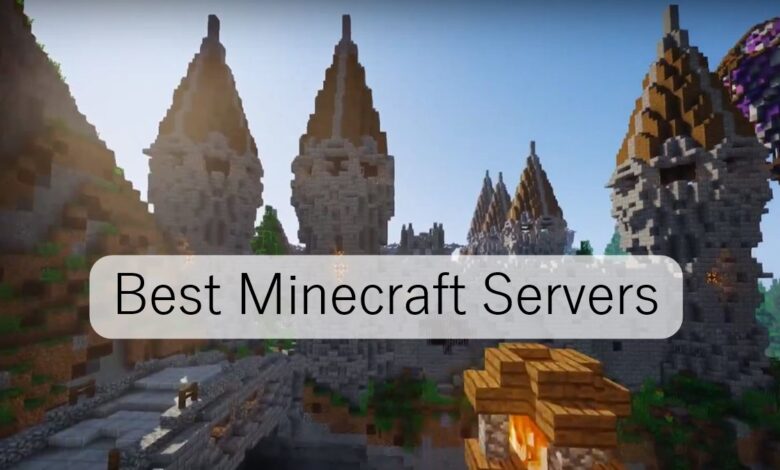 Multiplayer servers is the must if you want to experience the whole Minecraft experience. In this post, we will talk about the best Minecraft servers. Since there is an active community of the Minecraft lovers, servers allow you to experience the different type of creative gameplay.
You will enjoy the multiple features on Minecraft servers like Mini-games, unique recipes for crafting and enchantments. So without further ado, let's discuss the best Minecraft servers 2020
MINEPLEX
IP: eu.mineplex.com or us.mineplex.com
Server: Minecraft survival server
This is an extensive Minecraft server in existence. With numerous arenas and zones for multiple game types, the Mineplex is filled with thousands of players at any time.
Mineplex feels like a studio-made MMO that makes it one of the best Minecraft servers with exquisite details. The always-existing community of staff and players is a great sport and always makes sure there are people to play with. You can join two-thirds of the experiences on this list while making Mineplex your only destination.
If you are willing to play Mario Kart's, Mineplex server is the best option for you. With power-ups, regenerated tracks, and karts without a real cart, Minekart is a refreshing change from other generally violent or pickaxe game types.
DESTERIA
IP: pvp.desteria.com
Server: Minecraft faction server
There are multiple Minecraft faction servers out there, but the class system and Desteria's level makes it one of the best Minecraft servers 2020. Borrowed from Runescape's level 3-99 levelling system, Desteria's depth is perfect for RPG fans.
Four classes and various factions are also immersed and create different PvP games. Like other great RPGs, Desteria is also home to a number of great environments, so load your shaders before entering.
RANCH N CRAFT
IP: mc.ranchncraft.com
Server: Minecraft RPG server
Horse Taming, Line Dancing, & Farming: This server is one of the best if not the best Minecraft servers if you are willing to saloon brawls of other Wild West-themed servers and stop shooting and stick to the simplicity of the life of the country.
With a number of server-specific horseback riding-based features, it's ideal for Minecrafters who feel most comfortable at home in the saddle.
Users can own land, start their own ranch, raise horses and enjoy crops to their heart's content. Also, Ranch n Craft is one of the most peaceful servers with a mostly sadness-free community and an army of helpful moderators.
WESTEROSCRAFT
IP: mc.westeroscraft.com
Server: Minecraft RPG serveR
If Middle-earth is our classic fantasy Minecraft server, then you can say that WesterosCraft is the tremendous modern server. From the walls to King's Landing's Red Keep, WesterosCraft is a massive server with stunningly detailed reproductions of many of the landmarks of Game of Thrones.
Much of the realm is built with TV show design, like travelling most of these servers into HBO's fantasy world vision. Kings Landing is exceptionally breathtaking.
As with Minecraft Middle-earth, work is still in progress and work is currently underway on the Lannister bastion of Casterly Rock. If you know your Winterfell in Dreadfort, you can join and support the next house of tyranny and death.
MANACUBE
IP: play.manacube.net
Server: Minecraft skyblock, faction, parkour, creative, and survival server
It is one of the only large Minecraft faction servers with a minimum 'pay-to-win' factor thanks to its recently balanced shop. There's also an enormous Minecraft Skyblock server, creative server, plus survival and parkour.
If you are looking for something a bit different, its island game mode leaves you to survive on mostly-submerged islands while you are away from poisonous water.
Or, there is Olympus, a prison-based server. Earn money by allocating your own private land here, and you can increase your rankings and access new and more profitable areas.
Potterworld
IP: play.potterworldmc.com
Are you looking for another magical world to explore? Join Potterworld and explore places that seem to have escaped from your most-loved movie series and fantasy book. It takes time to decipher the fun of Minecraft added to each location name like Hogsend and Hogsworth.
Potterworld offers multiple fun mini-games to play with your favourite Minecraft Potter-heads, including Quabbleball, Spell Wars, Hide and Seek, Melting Floor and more. The website's calendar will help you keep up with a month full of fun virtual events.
Extreme Craft
IP: play.extremecraft.net
If you're not sure exactly what type of server you're signing up for, consider jumping into Extreme Craft. This Minecraft server is one of the most popular options available in different game modes for all types of players.
Game modes include hunger games, survival, factions, sky grid, sky wars, acid islands, sky blocks and egg wars. Indeed, you can also join as a creative player and click on the next creation to enjoy.