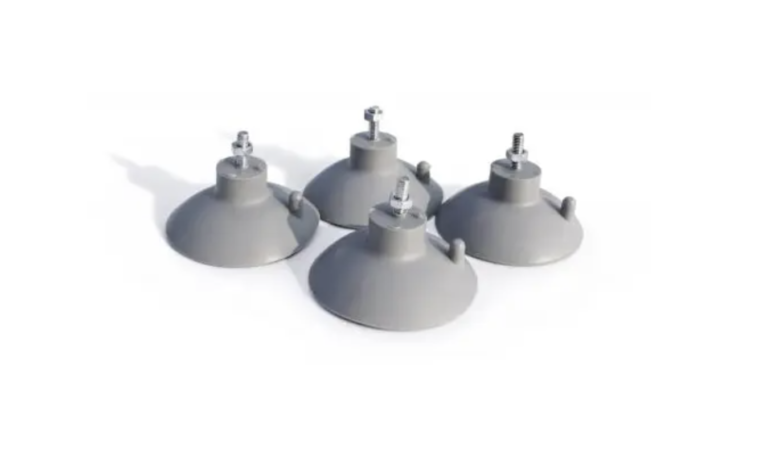 A suction cup is used to hang something like a poster on a glass window or grab a glass sheet. They are ideal for sticking to any flat, non-porous surface and will adhere firmly if applied appropriately. Suction cups are made of soft rubber material and adhere to the surface with intense air pressure.
The Functioning of Suction Cup
The suction cup is made of flexible rubber which is breathable. The suction cup has a concave shape under the tip of the cup to suck the air inside it naturally. Press the cup onto a flat surface where you want to hang something, and the air trapped inside the concave area is pushed outward, away from the circular cup flap.
Benefits of Suction Cups
Different types of suction cups offer different benefits to its users.
The flat shape and low interior volume result in minimal evacuation times
The excellent stability of the glueing tool allows a high cutting force
Handling soft to slightly coarse areas, such as cardboard, sheet metal, glass panels, wood panels and plastic parts.
Suction cups are useful for treating such as body panels, tubes, cardboard boxes, etc.
Suction cups can handle fragile elements such as electronic components or injection moulded plastic parts as well as handling of flexible parts, such as wrapped or packaged products.
How to Choose Suitable Suction Cup Feet?
Choosing the best and suitable suction cup demands your time and attention. The choice of suction cup depends on certain conditions such as the quality of the surface, the structural stability of the part to be lifted, the materials, the shape, etc. You can buy best quality suction cup feet by considering the following things.
Material
The application and environmental conditions are essential in choosing the right material. Corrosion resistance, oil resistance and food safety are often the specifications required for a suction cup. These requirements can be met by selecting the appropriate material. Suction cups are available in different materials. These are Natural rubber, NBR, HNBR, Silicone, Polyurethane and Viton etc.
Surface
Consider the surface where you want to use a suction cup, and you will find suitable for round, curved and irregular surfaces, and with our range of products you can find the best suction cup for every task. Flat suction cups are suitable for handling workpieces with flat or a little curved surface and can be emptied quickly due to their flat shape and small internal size so that they can grip the workpiece in a very short time.
Shapes of Suction Cups
Suction Cups are generally available in two shapes; flat suction cups and bellows suction cups. Both shapes of suction cup provide benefits which are enhanced and reinforced by the combination with a suitable material. Flat suction cups can withstand the forces caused by the rapid movement of objects during manipulation.
It is very important to choose the most suitable type of suction cup for the best results.