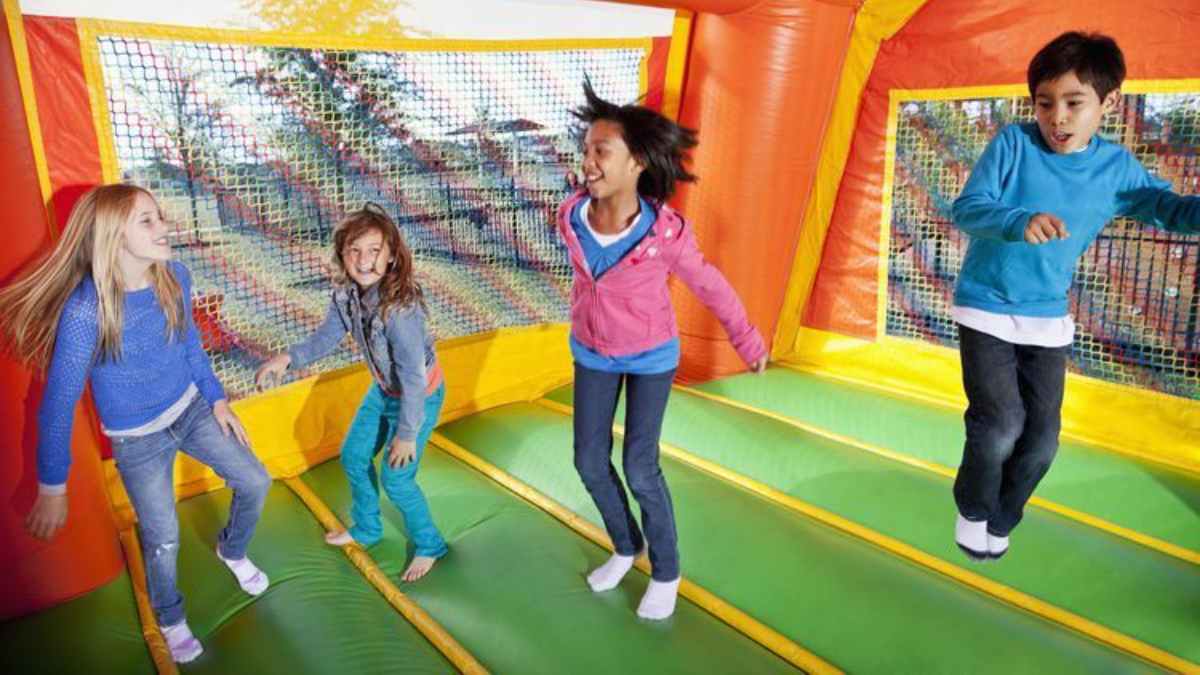 Most kids are into outdoor activities, which work as an outlet where they release energy and interact with peers. However, children can not enjoy the fun in bad weather, such as on rainy or stormy days. Even in winter, outdoor activities are hardly accessible to kids because coldness prevents them from free movement, not to mention doing outdoor activities.
But now, you can hold an impressive indoor bounce house party that your kids will love. Imagine kids jumping and playing in the indoor bounce house party while parents can also feel relieved. More than anything, holding a bounce house party is safe if you organize it properly. Suppose you still don't know much about the bounce house for kids, nor know how to hold an amazing indoor bounce house party. Don't worry. Here we will show you in detail. Let's get stuck in!
The Steps to Organizing the Best Bounce House Party
Keeping the bounce house party indoors requires ensuring everything is set correctly. Here are the steps for organizing an inflatable party indoors:
Step 1: Measure the Available Free Space
When planning a bounce house party, you need to measure your available space first. Keep in mind that you need around 6-8 feet around the inflatable and some overhead in case kids hit the ceiling. In addition to this, you should consider some space where your guests stand. If you still have no idea about the exact space left for the party, we are delighted to give you some suggestions.
Step 2: Consider the Number of Kids in the Party
Another thing that you must take into account is how many kids attend the bounce house party. It is indispensable to a bounce house party because it affects how much space you need and which size of the bounce house. For example, if there are two kids attending the bounce house party, then our small-size bounce houses can respond to your needs, ensuring that kids can have a blast without occupying too much space.

Step 3: Prepare a Tarp and Safety Mat to Protect Children
Ensuring kids' safety in the bounce house party is always the top priority. Preparing a tarp ahead of the party is advisable in case some water is spilled on the ground. Also, remember to place a safety mat near the entrance and exit, preventing kids from falling and getting hurt!
Step 4: Move Any Items that Might Get Damaged
A bounce house for kids is extremely fun. However, placing it indoors makes your items prone to damage. Therefore, if you have any valuable items, it would be better to move them to a safer place in advance.
Action Air – Take Your Indoor Inflatable Party to the Next Level
The success of your bounce house party primarily hinges on the quality of the inflatables your choose. This may help explain why many people choose high-quality bounce houses from Action Air. Here are the advantages of our bounce houses, allowing us to be more competitive and sought-after on the market.
l Easy to carry. Our bounce houses feature lightweight, allowing you to move and carry them anywhere you fancy.
l Quick to inflate. You can inflate our bounce houses within three minutes, reducing children's time waiting for the fun bounce house party.
l Durable to use. We apply heavy-duty puncture-proof material with double to quadruple stitches to our bounce houses, allowing you to use them for indoor parties for as long as possible.
l Available for outdoor and indoor purposes. Due to the great merits of our bounce houses, you can use bounce houses outdoors or indoors, and you can be reassured of your kids' safety.
How to Make the Most out of Bounce Houses from Action Air
Apart from the abovementioned steps to plan the indoor bounce house party, there are some tips you need to know when using our bounce houses.
l Read and follow the instruction manual when setting up our bounce houses.
l Set up our bounce houses on flat ground.
l Connect the air hose to the blower and inflate our bounce houses in around 1~3 minutes.
l Use ground stakes to fasten our bounce houses.
l Make sure the blower is always on when kids jump on our bounce houses.
Right now, you can take advantage of the special discounts on the Action Air website. If you are in the US, you can also benefit from free shipping. In any case, every new customer has an additional discount for any product you purchase. Wonder how to make an exciting bounce house party that impresses your guests? Get in touch with Action Air to find the best inflatable for your needs!