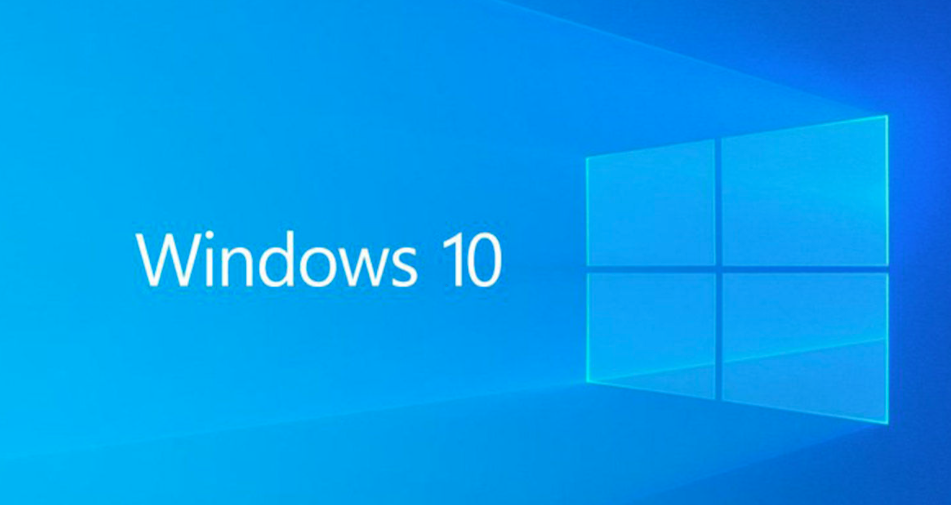 Why remotely access another computer with Windows 10 installed?
Nowadays, Windows 10 has been the most widely used Windows operating system. And usually, Windows 10 computer users want to remotely control another Windows PC under the following condition:
For telecommuting
The "work at home" model has been adopted by many companies. This working model makes employees save commuting time and enjoy a relaxing working environment. Sometimes, employees need to use files on their remote office computers. Them, it's time to access the office PC from home.
For remote technical support
You can directly come up to his or her to offer technical support when your colleague asks for you to solve technical issues if you and your colleague are in the same location. However, when you are not within the same location, it's time-wasting and energy-consuming to arrive at the same place. Thus, you can control the remote Windows 10 PC without physical presence and then fix technical issues.
Two remote desktop utilities to remotely access another Windows 10 computer
Next, you will learn about two simple and safe remote desktop software that will allow you to easily operate another distant Windows 10 PC. If the host PC is running Windows 10 Enterprise/Professional and the host and client PCs are under LAN, you can use the first program to effortlessly connect the two computers. If you're the OS of the host PC is Windows 10 Home, and the two computers within different networks, you can use the second program to achieve the operation.
Remotely access another Windows 10 computer using Windows Remote Desktop Connection
To use Windows Remote Desktop Connection to control another PC, you need to enable Remote Desktop and allow Remote Desktop through Firewall on the Windows computer that you want to access.
1.Type remote desktop settings in the Search box and run it.
2. Drag the button under "Enable Remote Desktop" to the right side to enable Remote Desktop.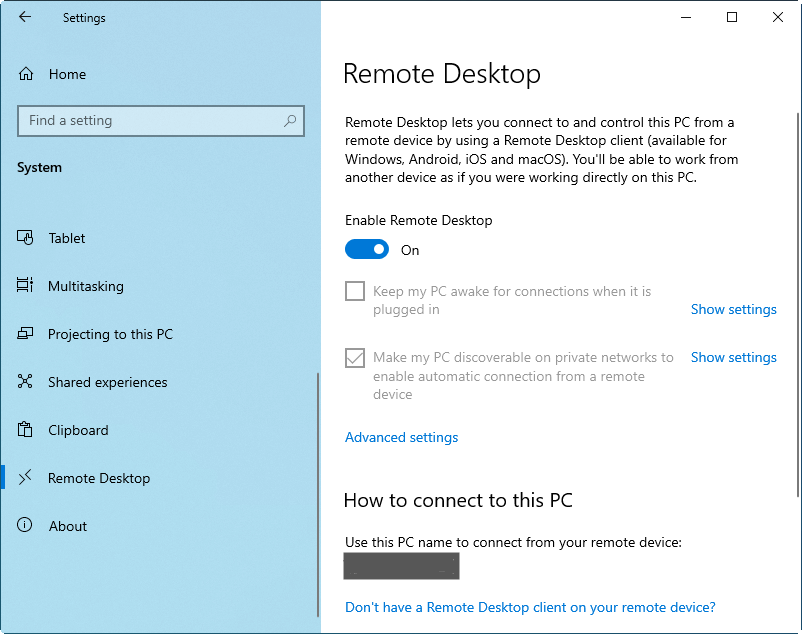 3. Press Windows + R at the same time, input "sysdm.cpl" and press Enter to open System Properties.
4. Click "Remote" tab and choose "Allow remote connection to this computer".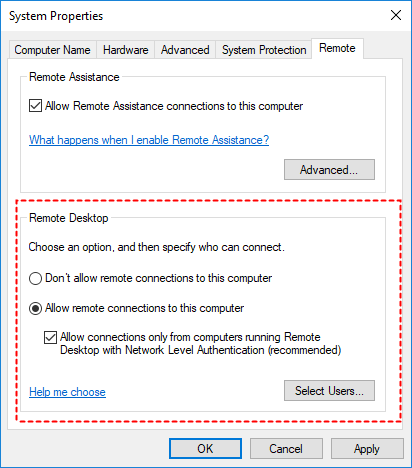 5. Input "Allow Apps to Communicate through Windows Firewall" in the Search box and open it.
6. Click "Change Settings", locate "Remote Desktop", check "Private" and "Public". Then, click "OK" button to save changes.
Then, you can run Remote Desktop Connection on the client computer to connect to another Windows 10 computer.
1. On the client computer, input "Remote Desktop Connection" in the Search box and run it.
2. Type the IP address of the host PC and click "OK".
3. Input the user name and password of the host computer and click "OK".
4. Then, you can remotely access the host computer and view the files and folders saved on the host PC.
Note: To check out the IP address of the host PC, you can press Windows + R, input "cmd" top open Command Prompt. Then, type "ipconfig" and hit "Enter" key to view IPV4 Address.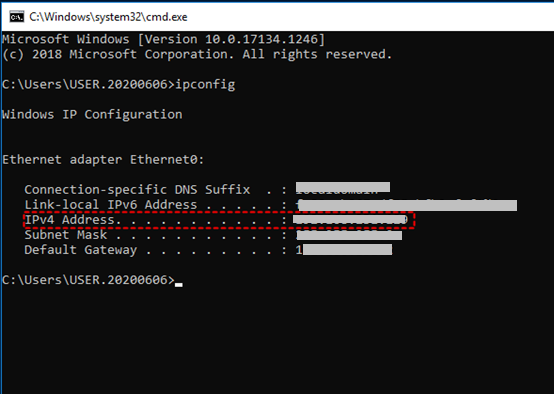 Remotely control another PC using a third-party remote control freeware
It's can be easy to access a Windows 10 Professional or Enterprise computer from one Windows computer using Remote Desktop under LAN. For controlling PC within the different networks using RDC, it's necessary to set up a VPN or forward ports on the router.
Therefore, here introduces a third-party remote access software, AnyViewer. It works well under all editions of Windows 10/8.1/8/7 and Windows Server 2016, 2012 R2 (64bit and 32bit). It supports you to control another computer that isn't under the same LAN without complicated settings. Besides, if offers "Ctrl+Del+Alt" combination option in the top menu, enabling you to enter Task Manager of the host PC quickly and easily.
Go to its official website, download AnyViewer and install it separately on the host computer and client computer. Then, walk through the step-by-step guide.
1. On the host PC, click "Settings" icon.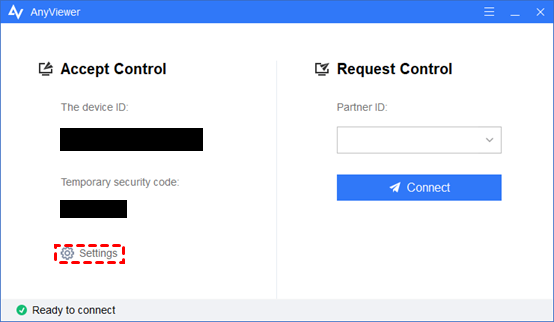 2. Drag the button before "Allow to accept remote control" is on the right side, so that this computer can be controlled by another PC. If you need to set up unattended access, you can drag the button before "Set my security code" and input "Security Code". After that, you can click "OK" to save the changes.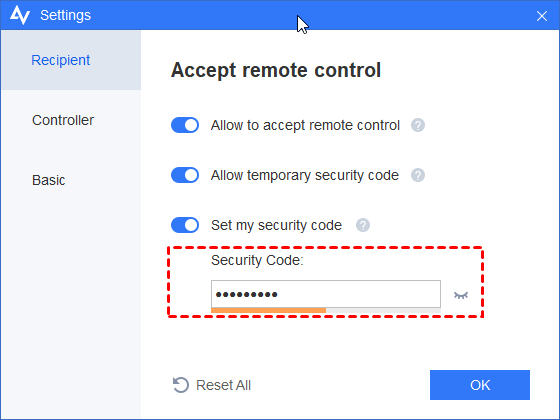 3. On the client computer, input the device ID of the host computer in the box under "Partner ID" and then click "Connect".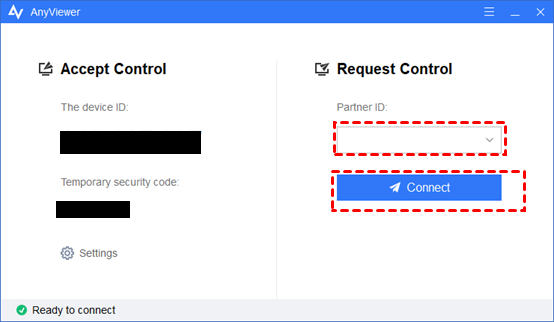 4. If offers you two ways to control another computer: send a control request to your partner and input security code. If your partner has send the security code to you, you can choose "Input security code" and then click "OK" to connect to another computer.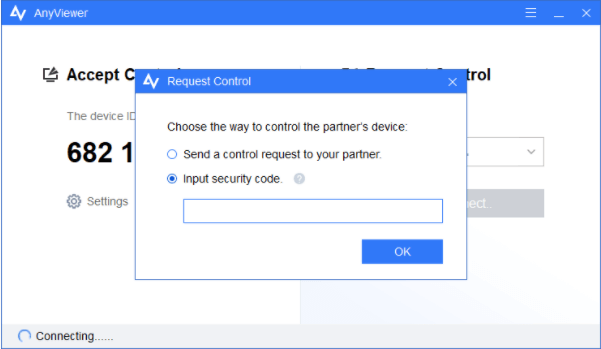 5. Or you can choose "send a control request to your partner and your partner will receive a control request. And he or she needs to click "Allow" to accept the request manually; otherwise, you won't be able to control that PC.