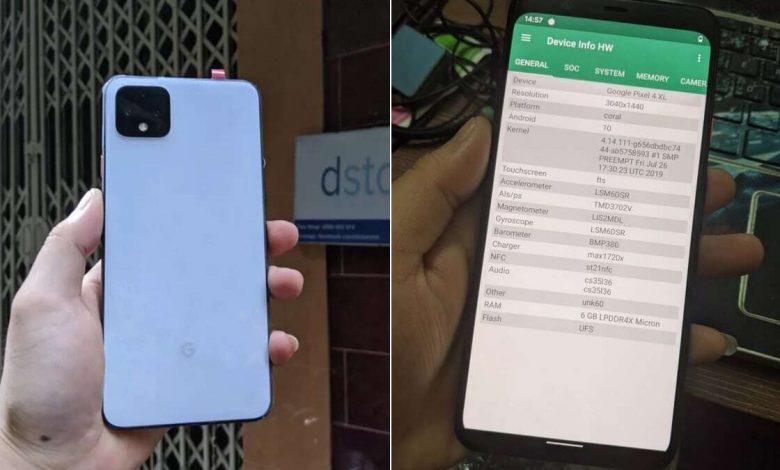 Google Pixel 4 leaks are introduced almost every day from the gaming reviews to the hands-on images you can find almost everything about them online. Recently some new images for Google Pixel 4 XL were launched which showed the white variant of the smartphone. It revealed some key specifications of the phone. A comparison of the camera of Google Pixel 4 XL and Galaxy Note 10+ was revealed recently. There is also a new device named 'needlefish' which is rumored to be Google Pixel 4 XL 5G device.
The images come from a phone seller in Vietnam with name D Store Mobile via The Verge. There are about 21 images in total which shows the hardware and software specification of the mobile. It confirms all the details mentioned in the previous leaks and the camera aperture of Google Pixel 4 XL is slightly larger than Pixel 3 which means it will provide brighter images.
The default image ratio in Pixel 4 will be 16:9 as compared to the previous one 4:3. There are few images shared by Slashleaks for Pixel for where you can see the image alongside iPhone XR and Oppo Reno phones.
The camera comparison video of Pixel 4 and Galaxy, not 10 is from Vietnamese YouTube channel from Relab who posted the gaming review video. The picture quality of Pixel 4 tends to be more realistic. For video recording, Galaxy Note 10+ has superiority over Pixel 4.
In Geekbench listing, first spotted by Gizchina, it revealed that Pixel 4 XL will launch a 5G version of the phone that will have 8GB of RAM. A codename "Needlefish " came across which is rumored to be among a Pixel Watch. Pixel  4a, a new pixel series tablet or something similar. You can find various camera features as XDA developers unearthed more features.