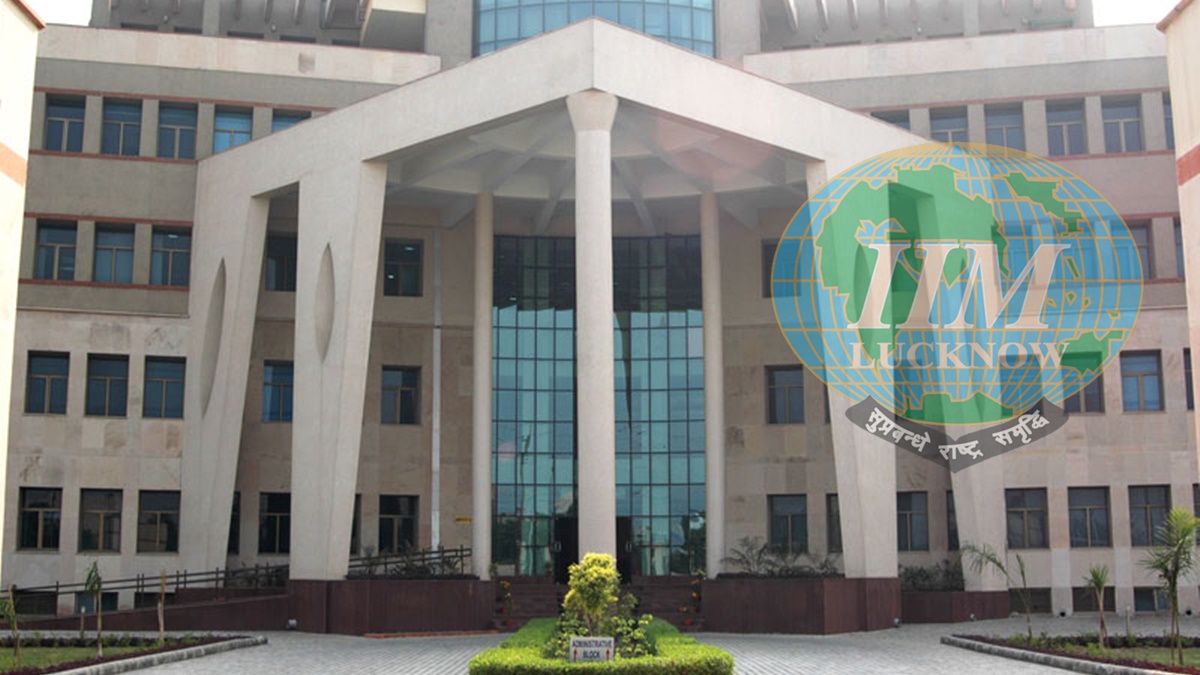 Indian Institute of Management, Lucknow (IIML), is recognized as an "Institution of Excellence" by the HRD Ministry. The college offers various MBA programs at postgraduate and doctorate levels. IIM Lucknow ranks 4th among management institutes, according to NIRF 2020. The college presents a very innovative course for future managers – PGP SM (Sustainable Management). The details of the course, like eligibility, admission process, and placements are mentioned below.
IIM Lucknow – PGP-SM
IIM Lucknow has recently introduced the Post Graduate Programme in Sustainable Management which has drawn inspiration from the thought that businesses are embedded in society and cannot be isolated from it. Therefore it aims to develop management professionals with a comprehensive perspective on economic, social, and environmental problems. In times of the pandemic, such a program is essential in creating future managers. IIM Lucknow charges 19.25 Lakhs INR in total for this course. Check eligibility, admission process, and placement details about the program below.
Eligibility criteria for IIM Lucknow:
Candidates should hold a Bachelor's degree from any university with at least 50% marks (45% in the SC/ST/PWD category) or equivalent, with at least two years of professional experience.
Candidates who are shortlisted have to submit a Statement of Purpose, the form for which will be made available.
Admission Process for IIM Lucknow:
Candidates are basically shortlisted for the interview based on their CAT performance, scholastic achievement, and relevant work experience. Written Ability Test and Personal Interview are then conducted at Bangalore, Hyderabad, Kolkata, Lucknow, Mumbai, and New Delhi. The final selection of candidates is based on performance in CAT, scholastic achievement, work experience, and performance in the Written Ability Test and Personal Interview.
CAT 2020 Important Dates:
CAT 2020 Admit Card Download Date – Oct 28, 2020
CAT 2020 Examination Date – Nov 29, 2020
Shortlisting Steps at IIM Lucknow for PGP-SM Admissions
Level 1: Shortlisting candidates based on Writing Ability Test (WAT) – Personal Interview (PI)
Candidates are shortlisted based on the CAT 2020 score, based on previous academic performance, and based on other criteria as well, which are mentioned below. Also, for PGP- SM, there are additional eligibility criteria: the minimum work experience of 24 months.
Level 1a: Eligibility criteria for WAT – PI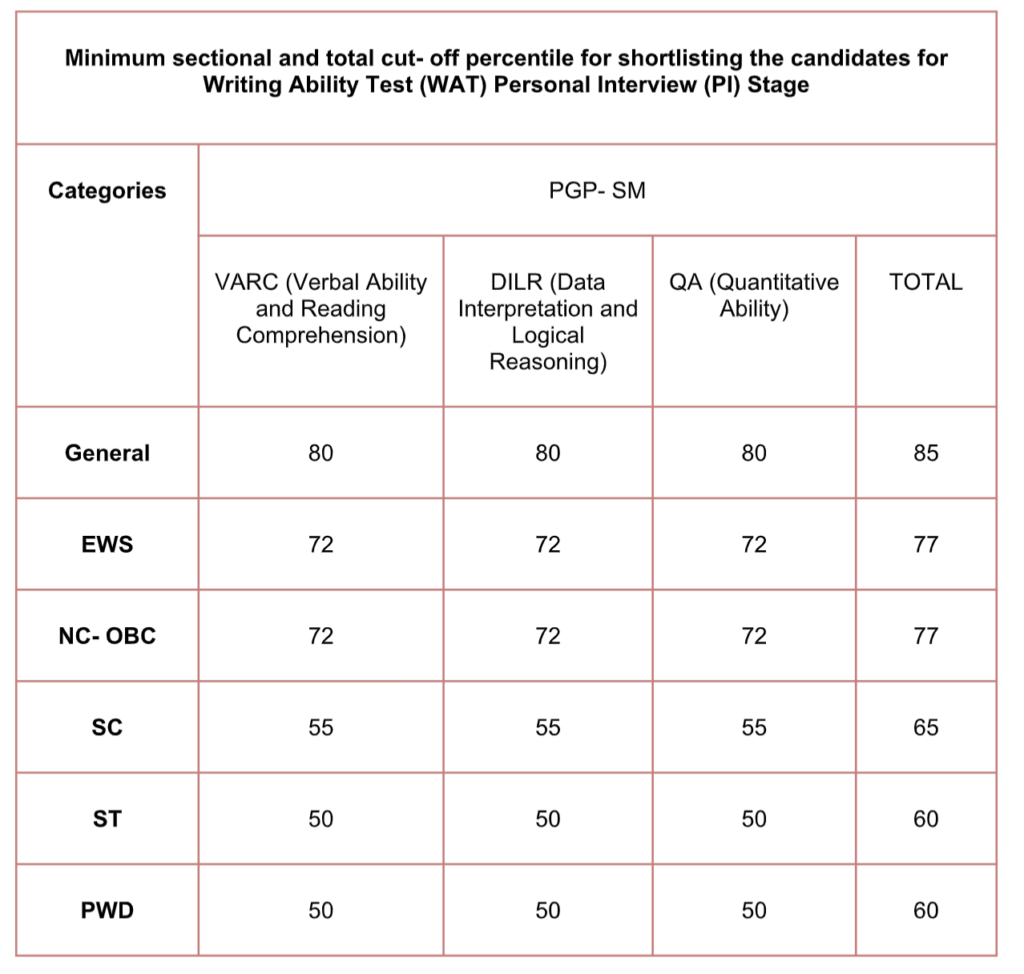 Level 1b: Calculation of the composite score for Shortlisting of the WAT – PI stage
All those candidates who satisfy those mentioned above minimum sectional and total percentiles for the respective categories in CAT 2020 are considered for level 2. The total scores in level 1b should be computed based on the information given in the table below.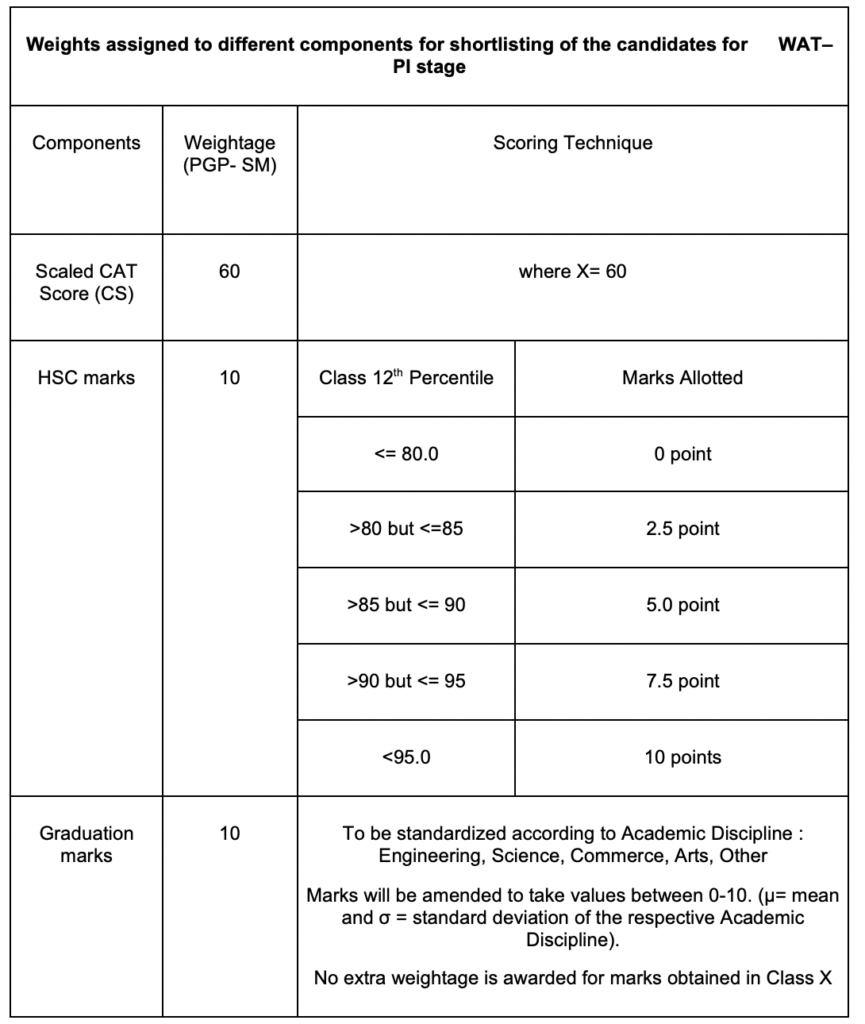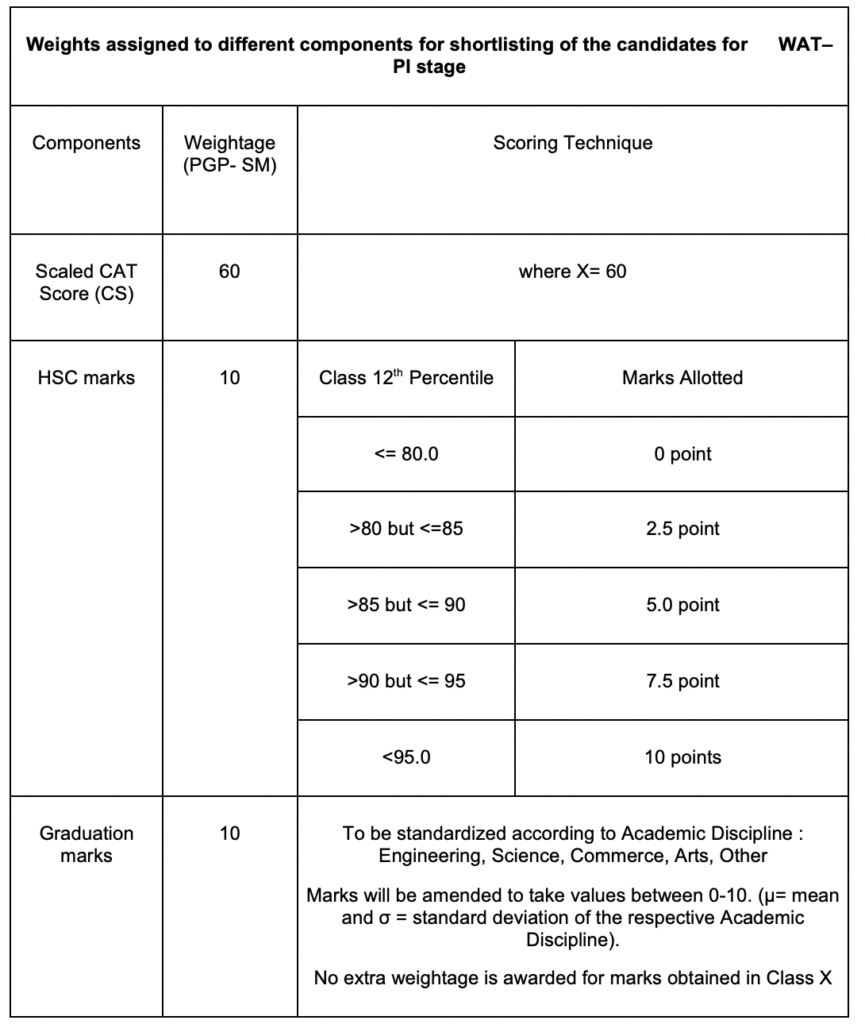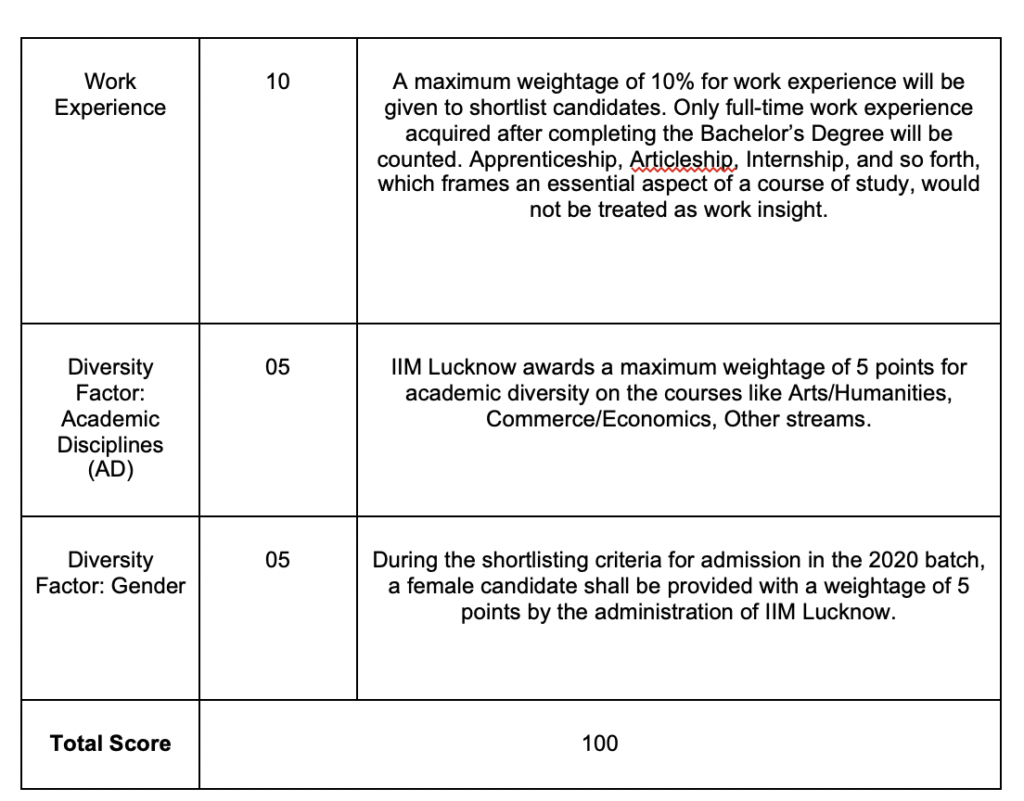 Level 2: A candidate's final score for selection in the PGP-SM program for the batch 2021–23 will be calculated based on the assigned weightage as given below: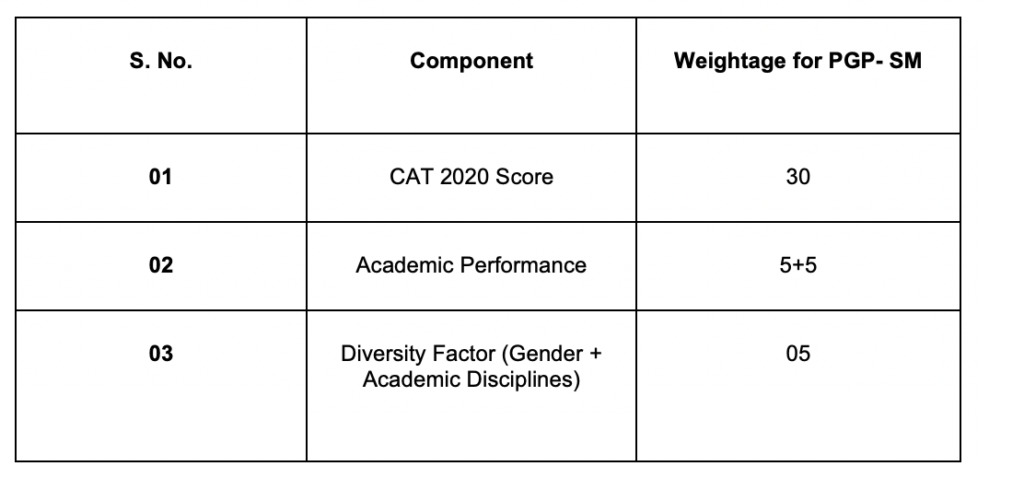 Note–
The minimum requirement to clear the personal interview is 12 out of 40 marks. The final merit list of IIM Lucknow will not include the names of those candidates who do not pass in PI.
Reservation Policy- IIM Lucknow applies the government of India reservation policy for admission to central educational institutions.
For more details, visit the official page http://www.iiml.ac.in/
IIM Lucknow PGP – SM Placement Process
Pre – Placement Talk:
The company comes to campus for a pre placement talk.
The companies' representatives share critical aspects of their respective firms, their organization's work environment, and their growth opportunities.
A typical PPT session is of 60 minutes, followed by a 15-minute-long Q&A session.
Application and Shortlists: The company sends Job Description (JD) as per prescribed format / giving out required details. Placement committee receives JD and Float Expression of Interest amongst students. Finally the Placement committee Sends resumes of interested students to the company.
Placement Interviews:
Company shortlists the students for the further rounds
The company can interview shortlisted candidates
Companies are encouraged to come to campus for interviews, and they can also take interviews over video conferencing.
Companies are requested to inform the Placement Committee of their travel plan well in advance.
Final Offers and Acceptance:
The final offer by the company to the selected students is to be communicated to the Placement committee.
The final offer is communicated to the students.
Its acceptance is governed by the placement rules and the recruitment policies of PGP – SM.
The average yearly package at Indian Institute of Management, Lucknow recently was Rs. 20 Lakhs PA and the highest package was Rs. 54 Lakhs PA.
The main aim of the program is to train students in the present business world, keeping in mind ecological and social issues. IIM Lucknow is looking for qualified people who comprehend the societal, environmental, and business aspects of sustainability. The program focuses explicitly on these:
Environmental, Social, and Economic Sustainability
Change-management preparation
Critical perspectives on policy and institutions
Cross-sector collaboration
Focus on management and policy analysis
Systemic linkages among environmental, social, and economic issues
Thus, the PGP-SM program by IIM Lucknow is definitely the need of the hour to create a holistic manager. The CAT 2020 aspirants can consider studying this program after appearing for the exam successfully.