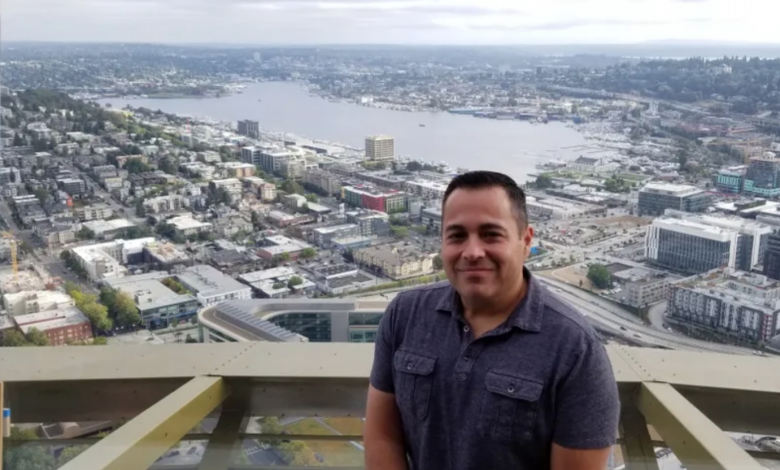 Sean Ortiz is a leadership expert from Jurupa Valley and the founder of the Sean Ortiz Leadership blog at www.seanortizleadership.com
Ortiz shares his leadership knowledge with website visitors to teach them the principles and values of leadership in a corporate setting and everyday life.
Ortiz says the applications for leadership extend beyond the workplace and into everyday life.
Ortiz, who has experience with technology and leadership together, believes human leadership is paramount and should be prioritized first.
Ortiz believes that while companies should continue to make room for change, they should remember that technology will never replace great human leadership.
It's precisely leadership that helped Ortiz take a company from $900,000 in annual revenue to over $6 million in sales.
"They profited 35%," says Ortiz.
Ortiz says that his success comes down to a combination of formal experience, pattern recognition and working with people.
Ortiz has a Bachelor of Business and a Masters of Leadership Management.
But Ortiz says it's about much more than formal credentials.
He says that while working with businesses in Jurupa Valley and beyond, he was able to detect processes that weren't running smoothly.
After comprehensively examining a business, Ortiz would implement solutions to fix them.
Ortiz says he helps businesses improve their productivity and production to bring in better results and improve bottom line.
"I also love motivating people and helping them work with their strengths."
Ortiz says he helps people improve on and fix their weaknesses, but also helps them realize their strengths.
He says it's all about showing people what they're capable of.
The Harvard Business School published an article about whether belief was crucial for success.
The truth is that belief impacts morale, especially for leaders.
The article says that when you doubt an organization or its goals, it's an ongoing struggle to remain motivated.
Believing in the possibility of achieving a goal allows you to bring your full creativity to the task at hand and pursue it with relentless effort.
Ortiz says he makes it his priority to motivate teams and show them the positive impact they have on organizations.
He says he tries to get people to a point where they believe in themselves so they are both motivated and self-driven. That allows them to tackle difficult tasks with the right amount of confidence to see them through.
He focuses heavily on organizational skills as well to ensure teams within organizations perform effectively.
Having performance markers and goals helps keep organizations and the people within them on task and achieving to their full potential.
"I try to involve employees in important decisions to boost overall workplace engagement," says Ortiz.
A study published by McLean and Company, a prominent HR research firm, found that a disengaged employee could potentially cost a company approximately $3,400 for every $10,000 in yearly salary.
The truth is the impact of employee disengagement has a major impact on an organization's bottom line.
That's one of the reasons why Ortiz believes human leadership and leadership training is paramount.
Humans, at the moment, are more effective at motivating teams than technology.
While organizations should make room to accomodate for industry changes and technological requirements, they need to make leadership the main priority.
It's for this reason that Ortiz decided to launch his Sean Ortiz Jurupa Valley Leadership Blog (www.seanortizleadership.com) to teach people about the fundamentals of effective leadership.
Ortiz's blog states that he helps companies thrive by showing people how to unlock their unique talents.
So how exactly does Ortiz help people realize their talents and bring them to a level where they can perform optimally in their positions?
"I am able to see the full picture," says Ortiz.
He says he spends time with employees to audit their strengths and weaknesses.
Then he provides them with helpful feedback and mentors them so they can improve in their roles.
He says a large chunk of his time is spent with people and that spending time understanding employees and what makes them tick is an important part of the job.
While some business owners may think spending a lot of time with employees is an inefficient use of time, Ortiz has found the opposite.
"Leaders show people what they're capable of and they drive results," says Ortiz.
Ortiz says the more time you spend learning how people within your organization think and learn, the faster you can accelerate learning and results.
That's precisely how Ortiz managed to scale a company to $6 million in sales.
"It also helps to be a people person," says Ortiz.
He says one thing that has helped him work with companies of various sizes is his communication skills.
Ortiz says communication skills are more complex than simply speaking clearly and articulately.
"Communication goes both ways. It's about listening to the other person, understanding their concerns and having empathy for what they're going through. Communication is also about listening skills," says Ortiz.
He says people have always naturally expected him to fill leadership positions and be in charge.
Ortiz enjoys bringing comfort and security to businesses, smoothing out their processes, mentoring teams and inevitably scaling them.
It's a process he finds is repeatable and it's also why he's looking forward to sharing more of his content and skills on social media and his blog.
Ortiz has been interviewed on several news outlets and business blogs in the past month regarding his leadership skills and is always looking for new opportunities to talk about leadership.
He's also interested in technology and the way it affects change within the workplace and large organizations.
He says Kmart and Sears failed to keep up with technological chances, which resulted in their inability to remain viable as they once had been.
Ortiz is also a believer in hard work.
"It's not enough to be average. You need to go above and beyond and do your best every day."
Ortiz understands that to work hard, you need to have a purpose and a mission. You need to understand your strengths and weaknesses and you need to know what you're capable of.
That's why he spends so much time with employees in the initial stages.
"It's not enough to come into work everyday only to think about leaving as soon as possible," says Ortiz.
He says people should strive to be the first person into work and the last out the door.
Ortiz says those behaviours are directly reliant on your purpose and values within an organization and in life.
He says as a leader, you need to practice what you teach.
Ortiz knows that as a leader, teams look up to him.
"I always think about setting a positive example," says Ortiz.
Now that Ortiz has made his leadership tips and tricks available online, you can visit his site and request content at: www.seanortizleadership.com