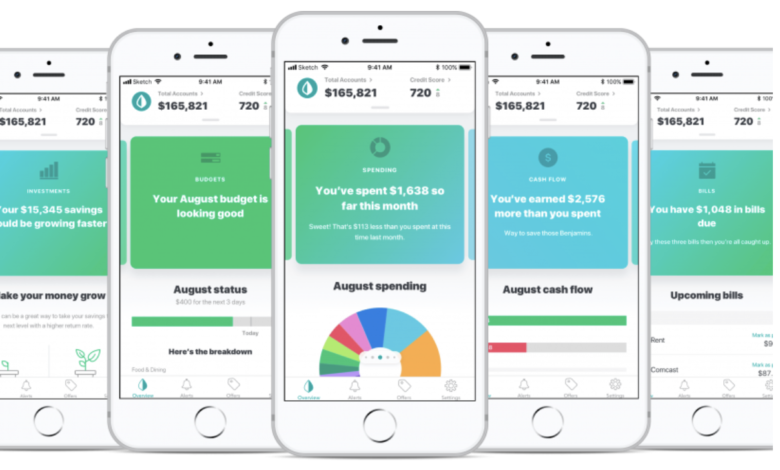 Are you still using a home-produced spreadsheet, cash envelopes, or a bunch of savings accounts to manage your budget? If yes, then it is really a clunky budget system. If you are having trouble making your budget work in real life and looking for some viable alternatives then this blog is for you. In this blog, we will shed light on the best budgeting apps that will help you in keeping financially fit.
So, if you want to live that "spend less than you make" principle, but, do not know which one is the best personal budget software then we are here to help you.
Top 3 Apps to Use to Begin Your Financial Fit Journey
Mint
Featuring first on the list is Mint. It is an excellent app to keep the track of expenses and income. This app also helps in giving an overview of the whole financial state. All you need to do is link this app with your bank account, credit card, and loan.
Let us check out the pros and cons of this app.
Pros
It comes at zero cost if you want to use its basic version.
The app is easy to setup.
It keeps the track of your progress.
Its paid version offers a connection with bank and other categories in order to control expenses.
It provides an easy-to-understand financial report.
It offers financial summary and alerts via emails and text messages.
You can easily categorize your income and spend for easy understanding.
It offers high-security for data integration.
It sends a financial summary and alerts through emails and text messages.
Cons
Its paid version is quite expensive.
It cannot work on the budget for future months.
It lacks any support for account registers.
It restricts multiple budgets in one account.
It offers a lack of support for multiple currencies.
YNAB (You Need A Budget)
Coming up next on the list is YNAB. When you compare Mint vs. YNAB, you will come to know that YNAB is aiming to create total control of your money. It is more safe and secure budgeting application. Let us briefly go through some of its pros and cons. It will help you in making the final decision.
Pros
YNAB is easy to set up.
It is free to use for the basic version.
It offers ad-free services.
It easily works with almost all major banking institutes and credit cards.
The app automatically matches the manual entries with bank import.
It is a GPS-friendly app that helps you in storing your favorite location.
Cons
This app requires continuous attention and involvement.
There is no free version available for this app.
It has its own philosophy for budgeting. So, it is difficult to adjust to other accounts.
EveryDollar
Last but not least on the list is EveryDollar. This budgeting app follows Dave Ramsey's zero-based budgeting baby steps to pay the debt off. In this app, every transaction gets recorded. So, it gives you better tracking of the budget. This app is easy to use in a web browser and mobile.
Pros
You can use its basic version at zero cost.
It is great for beginners.
This app is easy to setup.
Its interface is user-friendly.
It let you connect with the local expert for financial information.
Cons
Its paid version is quite costly.
This app focuses on a monthly basis instead of weekly.
It does not sync with the bank and credit card details for better budgeting.
Pricing
Mint – Annual fee is $16.99 per month
YNAB – 15 days trial version and the annual subscription fee is $99 per year
EveryDollar – It cost you $5 per month.
Here the winner is Mint. It is because it offers much better features when compared to other free budgeting apps.
Support
Mint – It offers email support but it is not as efficient as EveryDollar. There is no phone support. But, you can talk with them via chatbot.
YNAB – It provides email support and you will get a reply within 24 hours. It also has an online forum that helps you in solving your issues.
EveryDollar – It offers email support if you use its free version. In the case of the paid version, it let you solve your financial queries by talking with their representative via phone.
Here, the clear winner is YNAB for its prompt solutions.
Security
Security is the main concern when it comes to the use of budgeting apps. It is because any kind of data breach can affect a user's entire financial life.
Mint – To get access to his/her account, users need multiple authentications.
YNAB – It uses a data encryption method. Also, staff members do not have access to the consumer unless it is requested by the respected customer.
EveryDollar – It has tight security but not as effective as Mint.
Here, the winners are Mint and YNAB.
Final Thoughts
In a nutshell, when it comes to online budgeting and expense tracking, there are plenty of solutions but three of the biggest names in the business are Mint, YNAB, and Everydollar. Hopefully, from the above comparison – YNAB vs. Mint vs. Everydollar you got an idea of which one is better, how are they different from each other, and which one best fit for your budgeting needs.
Budgeting can be overwhelming when you do not find any help doing it. Keeping that in mind we have listed here the best budgeting apps for any budget. If you have ever used any one of them then share your experiences with us in the comment section below. Also, let us know which one is your favorite? If you feel we forgot to include some best budgeting apps then also let us know. So, we can add that to this discussion.