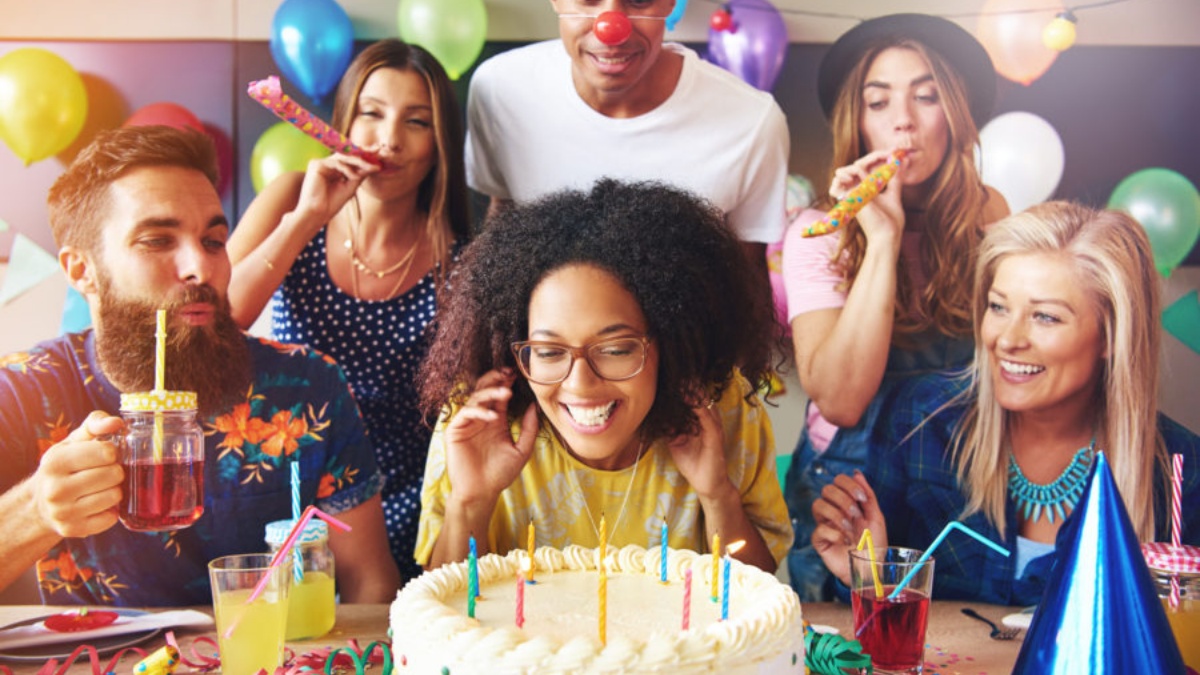 Songs are part and parcel of Bollywood movies since time immemorial. Hence, it is no surprise that there are many Hindi songs played for every occasions and festival. You may be familiar with famous Holi songs, Wedding songs or Friendship songs that are so ingrained in the hearts and minds of people in India. Over a period of time, these superhit songs are so common and popular that festivities are impossible to reminiscence without old Hindi songs.
Thanks to different Bollywood movies exploring the wide range of emotions like happiness, love, heartbreak, justice etc., the legendary composers made many songs related to them. And of course, the famous singers lent their voice. The same is the case with many Happy Birthday songs in Bollywood movies.
Birthdays are a special occasion for every individual. It is the day when you were born in this world. For children, it is the day to enjoy the special gifts from their parents, relatives and friends. For youngsters, it is all about throwing a party, playing music and having fun with friends while for adults it is a time of celebration and perhaps a look at the past. Many take the opportunity to reflect and remember good old memories. On the special day, you can listen to some of the best happy birthday songs on Saregama Carvaan and cherish them like never before.
While there are so many happy birthday songs which you might have heard before but you might know them very well. It is possible you love those songs but are unaware of the magical voice or the composer behind them. This blog aims to change that. Here are the top 7 songs of yesteryear which still weave its magic around birthday celebrations and doesn't cease to amaze us.
1. Baar Baar Din Ye Aaye – Farz 1967
Baar Baar Din Ye Aaye is perhaps one of the golden songs which is always associated with birthday celebrations in India. Whether it is the birthday of a famous personality or a child in your neighbourhood, this song is played during the cake cutting ceremony always. Sung by none other than Mohammed Rafi, the soothing voice plus the amazing lyrics by Anand Bakshi makes it the perfect fit for the occasion.
This song is part of the movie Farz released in 1967. The ever-elegant Jeetendra on whom this song is pictured makes it even more lovely and beautiful. It wouldn't be an exaggeration to say that it is the official birthday party song.
2. Hum Bhi Agar Bacche Hote – Door Ki Awaaz 1964
Sung by legends like Asha Bhosle, Mohammed Rafi and Manna Dey, this is one of the exquisite Hindi birthday songs that brings back all the good memories of childhood. If you are celebrating the birthday of your child, this is a must-have song. This song from the movie Door Ki Awaaz 1964, beautifully captures the mood of the party, happy parents, all smiling guests and lively and lovely children. The lyrics remind us of the sweet baby names, toys, fun, play and wishes that come on a birthdays. It is simply amazing to listen to this song.
3. Tum Jiyo Hajaro Sal – Sujata 1959
Composed by one of the iconic music directors of all time, S.D Burman, this happy birthday song is all about wishing the person long life and best wishes. As part of the movie Sujata, released in the year 1959, Asha Bhosle sang this marvellous song which captured the imagination of people then. And even now, the song touches the heart of people. It is one of those songs which you can dedicate to somebody you love, admire and adore. Maybe you can play this song amid celebration and say some choicest words along with it. It will certainly be a memorable experience.
4. Taare Kitne Neel Gagan pe Taare – Aap Aaye Bahar Aaye 1971
The duo of Rafi Da and Hemlata made the song Taare Kitne Neel Gagan Pe Taare beautiful and memorable. It expresses the love, care and wish of parents for their children. A touching song in the film Aap Aaye Bahar Aaye 1971, the happy birthday song brings out all the emotions of a father and mother in the best way possible. Again, this should be your pick among the songs when you celebrate your kid's birthday.
5. Phoolon Ki Sej Pe Jeewan Gujare – Phoolon Ki Sej 1964
Though this is an old song from the movie, Phoolon Ki Sej 1964, the evergreen singer Lata Mangeshkar made it a superhit. Filmed on the ever beautiful Vaijayantimala, it is a special song where the loving mother sings best wishes to her child. A deeply affectionate and melodious tune, the song is heart touching indeed.
6. Happy Birthday To You – Lallu Ram 1985
Talk about Lata Mangeshkar and Asha Bhosle can't be far behind. This happy birthday song is from the movie Lallu Ram in 1985 which was a drama. But the special song, set in a simple and sombre party scene, is apt for your party celebration as well. The melodious voice of Asha bhosle makes it even more adorable.
7. O Mamma Dear Mamma – Sajan Bina Suhagan 1978
This song O Mamma Dear Mamma, as the name indicates, is the happy birthday song dedicated to mothers. It is a song from the Sajan Bina Suhagan movie which was released in the years 1978. Three female singers Chandrani Mukherjee, Shivangi Kolhapure and Aarti Mukherji gave their voice to this beautiful song. It is a tribute you can pay to your mothers on her birthday and thank her for all the things she has done for you.
These are some of the special and popular birthday songs in Bollywood. You can listen to best birthday songs and much more on Saregama Carvaan. With 5000 songs from legendary singers like Mohammed Rafi, Lata Mangeshkar, Asha Bhosle and music directors like S.D Burman, R.D Burman and many more, you can find the best evergreen Hindi songs of the yesteryear on Carvaan. What's more, the high-quality sound and beautiful aesthetic makes Carvaan the best gift for birthdays too. You can play birthday songs using the Bluetooth option as well.