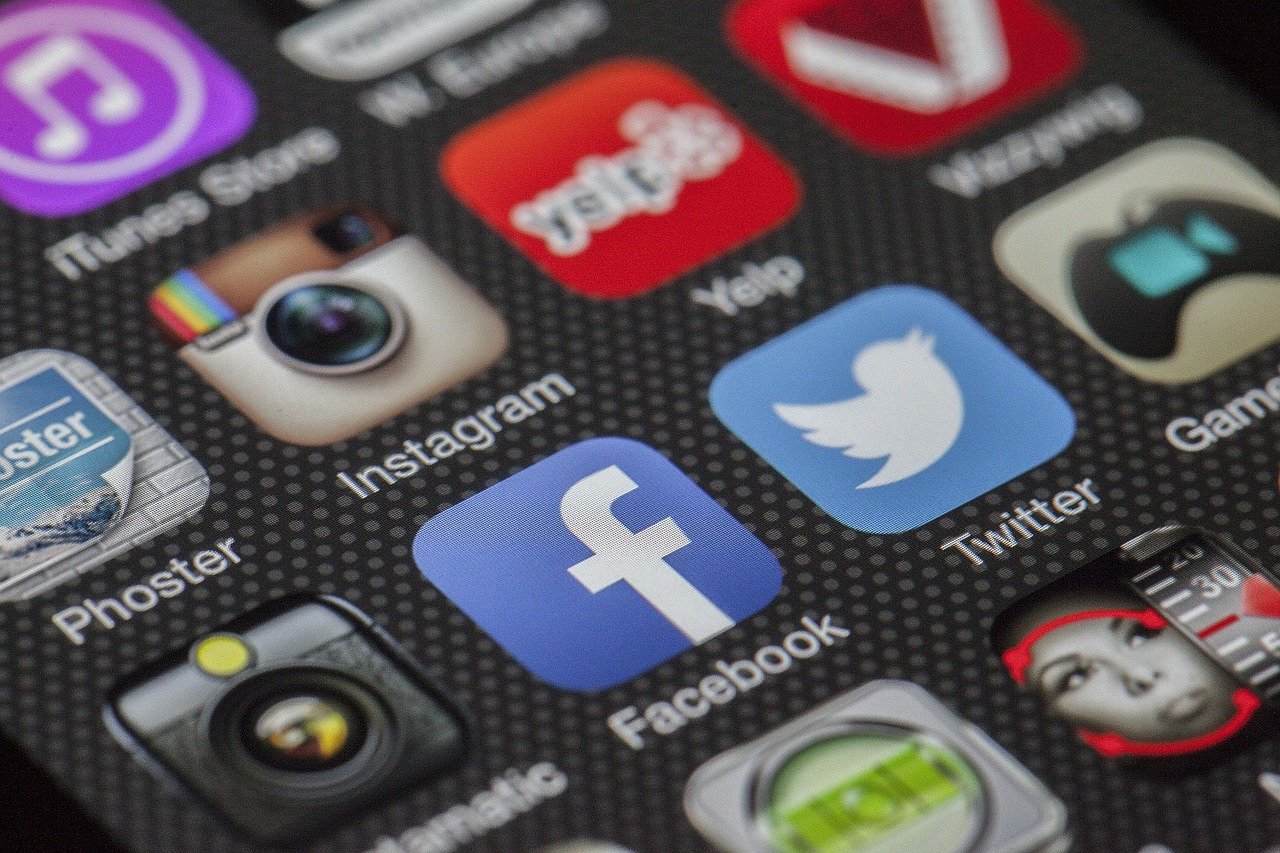 WhatsApp is becoming more and more popular among teenagers. As a parent, you may wonder that it is safe or not for your kids to use WhatsApp. How to say? WhatsApp is a social media platform, and anyone with a WhatsApp number can communicate with others on it. It is possible that your kids involved in the situations that they should not. But it is impossible to ban your kids from using WhatsApp. The only thing you need to do is to use a WhatsApp tracker app.
We will recommend 10 best WhatsApp tracker apps in this post. Well, scroll down and pick up the most suitable one for yourself.
Aispyer
The first one we recommend is Aispyer. After comparing with other WhatsApp tracker apps, we are really shocked by this app. It is lightweight, unobtrusive and it doesn't waste the power of mobile phone, which can make it successfully hidden on your child's mobile device. You can monitor your child without them knowing. With the help of Aispyer, you can track and monitor WhatsApp activities of your kids. You can check the messages, files and calls of WhatsApp in real time with just a few clicks on your mouse.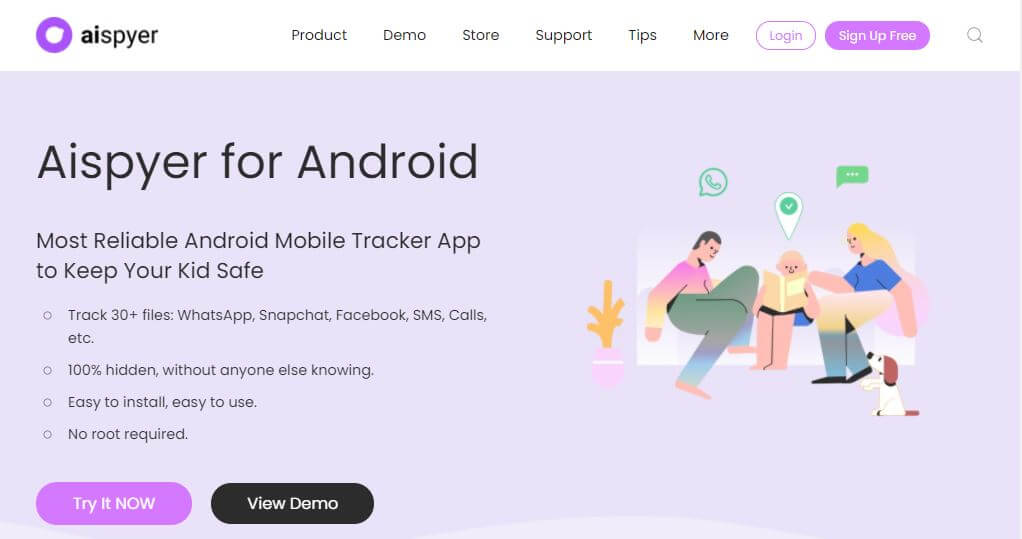 Pros:
It is not only a WhatsApp tracker app. It can help you to track all online and offline activities on your child's mobile phone.
Easy to install and with clean interface.
100% hidden and power-saving.
Cons:
Spyera
Spyera is another WhatsApp tracker app. It is one such platform recognized as the award-winning undetectable phone spy suitable for the kids. It is also not only a WhatsApp tracker app. It has powerful features like monitoring the phone calls, remote camera control, keystroke capturing, real-time GPS tracking, internet history, and email tracking.
Pros:
It provides free updates and remote upgrades.
It offers a 10-days money-back guarantee to customers.
It allows one to monitor the entire family.
Cons:
Not suitable for a newbie as it is hard to install and setup.
Too expensive.
ESET parental control
ESET parental control app is a solid solution for parents who want to protect their child from the unpleasantness of the digital world. It's easy to use and supports fairly useful features that'll enable parents to oversee their kids' activities quickly and efficiently.
Pros:
Track the child's location in real-time.
Cross-platform with unlimited devices license.
Filters the web effectively.
Cons:
Not for families with the mixed mobile-platform environment.
No options for call and text blocking.
Kidslox
Kidslox is another innovative and authoritative parental control app that helps parents to develop their young ones with a balanced attitude towards technology. See its key features below.
Pros:
One of the cheapest parental control app.
The interface is simple to use.
Easy to install and set up.
Cons:
No monitoring features—kids can access sites that aren't blocked and you will not know.
You cannot view their call history, texts, social media activity, photos, and videos.
FlexiSpy
FlexiSpy offers tons of advantages over parental control applications in terms of usability and features. You can easily track live locations, call records, text messages, social media interaction etc. One of the best things about this tool is that you can track multiple types of devices through a single dashboard and there is no limit to the number of devices that you can track at once.
Pros:
It can track multiple devices at a single time without requiring you to pay extra.
This application supports cross platform usage.
Cons:
The features of this application can be a bit confusing for new users.
It is very hard to install.
mSpy
mSpy is a powerful tracker app with 25 adorable features like tracking of social media apps like WhatsApp, Facebook to GPS, calls, and texts. mSpy provides quick installation and is completely undetectable hence making it a hidden tracker app on the destination.
Pros:
Multipurpose iPhone tracking features.
User-friendly and reliable tool.
Cons:
No free trial or free version.
Some mSpy features work on jailbroken iOS devices only.
Panspy
Panspy is a free leading WhatsApp tracking software with the proper time of messages and message logs. You can use this app to monitor your child, employees, or family members. You can easily track activities such as call history, Facebook, web history, GPS location, text messages, WhatsApp, Snapchat, and more on the target's device.
Pros:
has a free trial version.
It is easy to use and has a user-friendly interface.
Cons:
Free trial is available with very limited features.
The paid version is expensive.
Webwatcher
Webwatcher is a WhatsApp activities tracker app for both Android and iOS. It has a very clean interface that will allow you to monitor WhatsApp activities with ease. No matter your level of technological experience. It's advanced keylogging features and tracking functions should provide all that you need when it comes to keeping track of any activity performed on the device of your choosing.
Pros:
Effective monitor your child's online and social media activity
Installation is simple; the dashboard and interface are easy to navigate
Cons:
No time management or web filter options.
$39.95 seems expensive.
Whazzak
Whazzak WhatsApp, created in 2017, was with the primary purpose of hacking someone's WhatsApp without them knowing. Used by thousands of people to monitoring kids and pranking friends, with Whazzak WhatsApp hacker, you can download messages and contacts without any two-step verification. WhatsApp Whazzak has emerged as a growing hacker tool updated recently and implemented the hybrid type of man-in-the-middle attack and other secret attacks.
Pros:
It is a free online WhatsApp tracker.
It is easy to use.
Cons:
It can only be used to track WhatsApp.
It is not reliable.
WhosApp
Like Whazzak, WhosApp is also an online WhatsApp tracker. It allows you to monitor the online status of your friends, family and employees on WhatsApp. Activate the push notifications to be alerted instantly when someone is online.
Pros:
It is free.
No installation is needed.
Cons:
It can only track WhatsApp.
It cannot give you an exact result.
Conclusion
Have you found the best suitable WhatsApp tracker app for yourself? If you still don't know how to choose, then we suggest you pick up Aispyer, the first one we recommend in this post. We dare to say that it will not disappoint you.