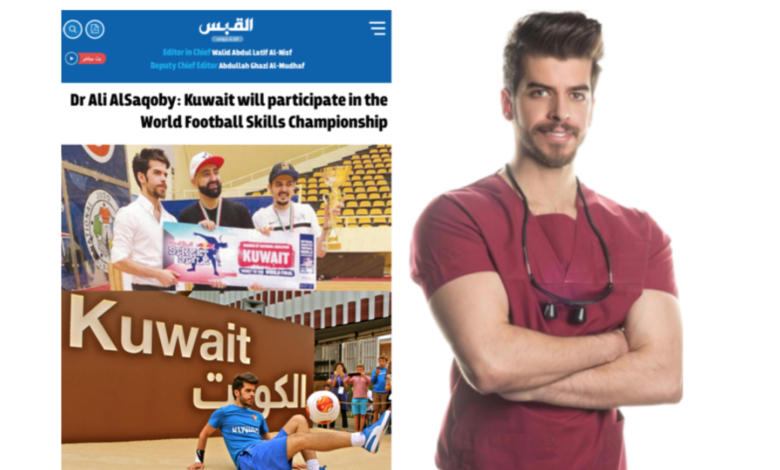 The internet with no doubt has brought the whole world closer than ever. Therefore, the internet is one the greatest gems of technology. The technology is advancing in a daily basis. With this rapid advancement of technology, there is a subsequent advancement on the exchange of information. Information could be local or on a wider range: foreign. Previously discovering foreign talented people worldwide used to be extremely difficult, unless you watch the foreign country's local TV.
However, currently, thanks to the internet era the whole world is condensed to a click of button. This highlighted exceptional talents worldwide that are both entertaining and inspiring.
Best example of this, is the currently world known exceptional talent from Kuwait: Dr. Ali AlSaqoby !he gained global admiration not just for his exceptional good looks but for his elite talents as an athlete, dentist, entrepreneur and writer.
His talents hadfound its way to the international news and publications surpassing the local press! This come with no surprise with such drastic achievements. In this article we can only come to the surface of some of his numerous achievements! No better way to start this, other than talking about the thing that, the Kuwaiti dentist has shined particularly globally on, and its sports! Soccer freestyle to be exact!
Soccer freestyle is often referred to as the art of self – expression through creating amazing skills with the soccer ball.
This sport has its own competitions and own regulating body. Dr. Ali AlSaqobydue to being a pioneer expert with several achievement of this sport, he is currently a part of this regulating body.
Dr. Ali AlSaqoby – Contributing His Role As A Prominent Dentist And Soccer Freestyle President!
We can all relate that staying at home during this period of quarantine is ridiculously boring. Everyone is in constant search of activities to do at home to occupy themselves. Some learned to cook their first meal ever. Whereas, some has read their first book! In these times creating new things to do is definitely needed to keep the mind and body healthy.
Dr. Ali AlSaqoby has exceeded 'just creating an activity' mark to be arranging sophisticated events relating to soccer freestyle sport at a high level, allowing players to be occupied through participating from the comfort of their own home.
The events created by himself revolved mostly around official championships. The most recent one, was held last August.
Not only he organized the latest championship 'official Kuwait tournament', but also judged it. The championships organized by himself received a positive feedback from the masses, and was the talk of the headlines that described it as a 'huge success'.
Soccer ball is the only requirement for participating making it simple, easy and not to mention safe! As no requirement to leave the house! Supporting #STAYHOME #STAYSAFE health awareness trends. To be performing his role as a freestyle soccer president and a dentist in the best way possible.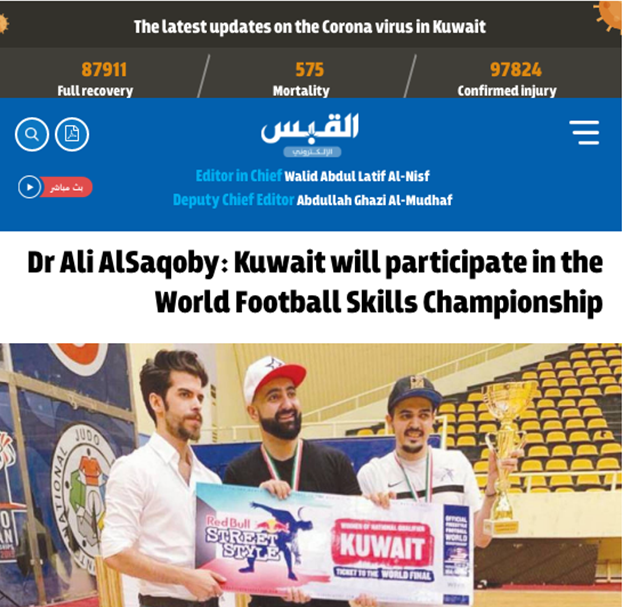 Photo credit: AQABAS Newspaper: showing Dr Ali AlSaqoby as soccer freestyle president and also main organizer giving the ticket to the winner, to represent Kuwait in World finals held in USA.
The recent Kuwait championship held last August was the successor to the last year's RedbullStreestyle world championships qualifier huge live event, in which the winner, (chosen by Dr. Ali) had a ticket to depart to Miami, USA, where the worldchampionships were held to represent Kuwait.
An Inspiring Dentist with Several Exciting Interests!
Viewing his instagram (@dr.alials) showed that he had even more to offer. There is a lot of things going on! His amazing dentistry, mesmerizing modeling photos with tons of engagement! And last but not least his performance of awesome soccer juggling skills worldwide, live in front of large amount of people, to include the successful shows that gathered thousands of people in EXPO Milan, Italy.
His modelling photos with no surprise had gained a universal appeal (even here). Gorgeous eyes and face had taken the talented Arab boy to a new summit of popularity with a photo as such below gaining very close to the 100k Likes.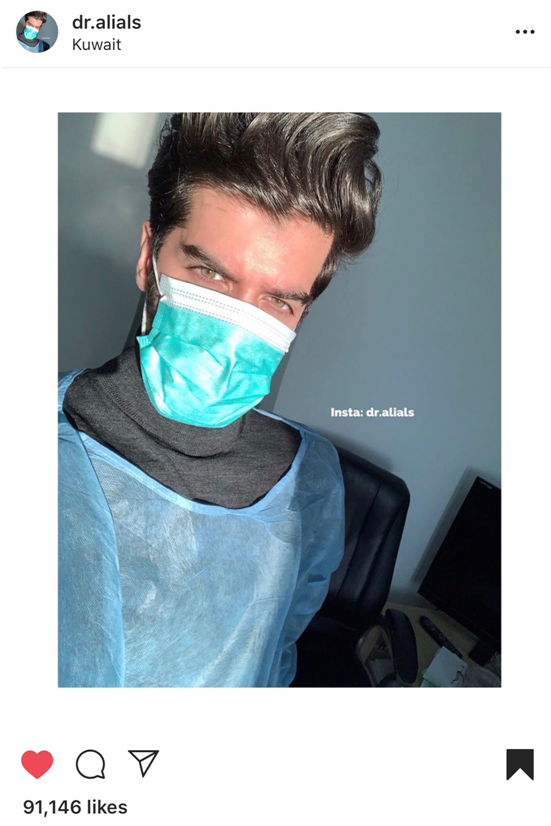 But this tremendous popularity was put to an ideal use by sharing his superior knowledge in medical field, supported by his second most talented dental award across the United Kingdom countries and his impressive Masters degree in dentistry attained after qualifying for a scholarship to studyabroad.
How to stay safe in the current pandemic and up to date education of the virus is constantly shared by him, Awesome! You can explore him more by googling his name Dr. Ali AlSaqoby (علي الصقعبي ) or by visiting his official website .
Most importantly be sure to follow him as we do too!