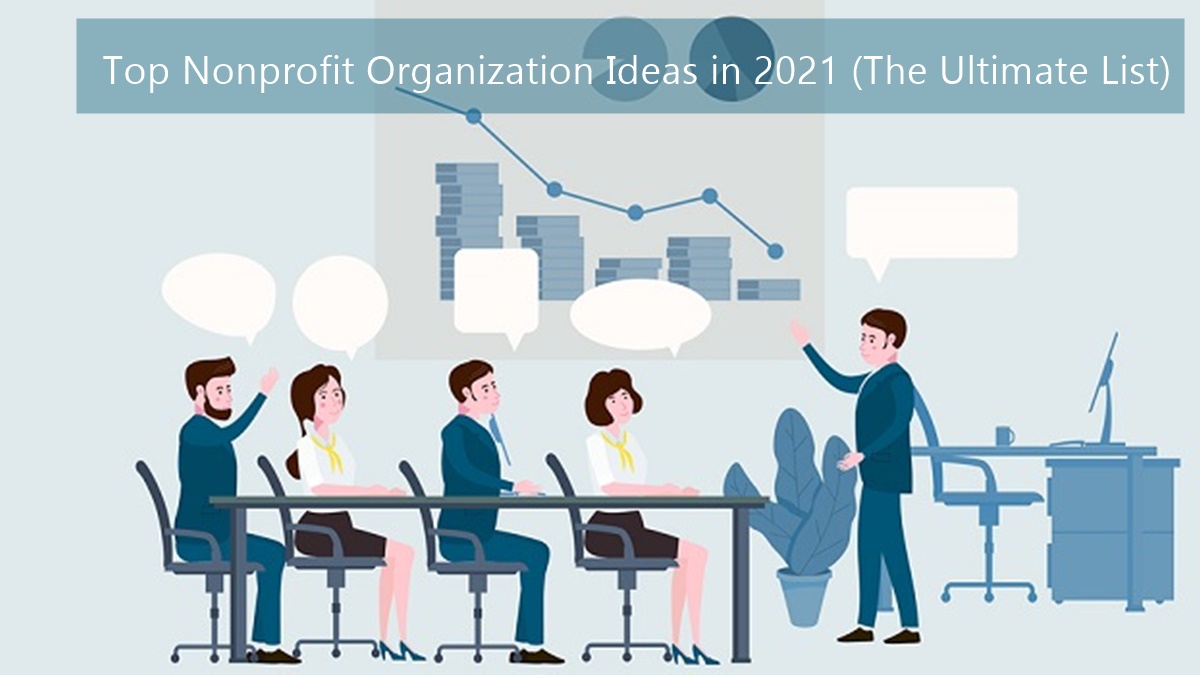 As we edge closer towards a new year, the occurrences and challenges of this year have certainly made their mark on us. Tough times and hardships were overcome with great perseverance, leaving us with the hope for a better year ahead. Though there isn't much to take away from this year, one thing we've learned as a group is kindness and responsibility towards the less fortunate.
Table of Contents
| | |
| --- | --- |
| S.No | Title |
| | Top Nonprofit Ideas – Introduction |
| a. | Education For The Poor |
| b. | Animal Shelter Homes |
| c. | Greener Earth |
| d. | Homes For The Homeless |
| e. | Elderly Care |
| f. | Chronic Diseases and Critical Health Conditions |
| g. | Aid For Disabled People |
| h. | Food Banks |
| i. | Fundraising Consultancy |
| j. | First-Aid Training |
Going into 2021, I think we can put our learnings into practice and contribute to the community. A nonprofit organization is a perfect way to give back to the community and engender morality within society. The process of starting a nonprofit is rewarding but daunting.
Before you even begin to question how to start a nonprofit organization, the issue of raising funds becomes your primary concern. You don't want to bug your donors, but you need the donations to reach you on time. Well, Donorbox is the perfect tool for you and your donors; a simple, powerful, and effective donation form that is easy to set up and attracts recurring donors. Integrate it with your nonprofit idea, and you can gift your donors a seamless experience.
While you figure out your funds' sources, you let us help you with some ideas for your nonprofit in 2021. Here are the top ten nonprofit ideas you should be looking at for the coming year.
1.  Education for The Poor
We all understand the vitality of education and its importance in shaping up livelihoods and a better life for people. Unfortunately, education costs are exceptionally high, and residents of poor neighborhoods hardly stand a chance of enrolling in schools. Lack of education due to poverty leads to indulgence in criminal activities. The best way to impede this would be to start a nonprofit that gives such people access to good quality education.
2.  Animal Shelter Homes
Every life is worth saving, whether it is a human's or an animal's. Every time you step out, you can see strays that are barely surviving on the streets and have almost nothing to live on. The situation is worse in third world countries and seasons of extreme cold.
A nonprofit organization that shelters these stray pets and animals can be a lovely idea, especially if you are an animal lover. A shelter with regular visits from a veterinarian can be set up with the help of your local government.
3.  Greener Earth
While people foolishly debate the reality of climate change, one can notice the damage our earth is taking as a responsible human. If you are one of those that strongly believe in preserving the earth's resources and making efforts towards a greener and cleaner planet, then a nonprofit for a greener world must be within your top ten ideas.
As an organization, you could take up the challenge of promoting greener ways of living and spreading the word about it in regions where it is unheard of.
4.  Homes for The Homeless
With the pandemic hitting us like a whirlwind, many have lost their jobs and some of their homes. Unfortunately, the percentage of homeless people has risen sharply, and while companies try to rebuild in this pandemic, the number of jobs available remain scarce. In such a situation, starting an organization that helps homeless people and shelters them is the right thing.
5.  Elderly Care
In many regions across the world, the elderly do not get the right care and comfort they deserve at their age. Some are unfortunately abandoned, and others do not have anyone to care for them. With age, they no longer remain strong enough to get what they need and so establishing an organization that caters to their needs and makes their lives a bit more comfortable is a noble act.
Indeed, there are nursing homes, but they require a substantial amount of money, and some cannot afford it. A nonprofit organization that cares and looks after the elderly would be highly appreciated and a thoughtful act of compassion.
6.  Chronic Diseases and Critical Health Conditions
People with chronic health issues such as diabetes or diseases like HIV/AIDS and leprosy are 9 out of 10 times cast out by their family and society. And if the social stigma isn't painful enough, the costs of treatment against these issues become a very heavy burden to the family.
As a nonprofit, you can raise funds to procure drugs, management costs, and other medical expenses.
7.  Aid for Disabled People
The world isn't built well enough to accommodate the needs of disabled people. From inaccessibility to buildings to limited modes of transportation, every day is an ordeal. Unfortunately, in some communities, disabled people are looked down upon, leading to their negligence and ill-treatment. As a nonprofit, one can shelter and raise funds to build a better life for the differently-abled.
8.  Food Banks
Food banks are nonprofit organizations that provide grocery and other food-related items to residents of poor neighborhoods. You would need to create good connections with grocery stores in the poor neighborhood's vicinity, raise funds, and arrange a good transportation system. As you fill their stomachs, their smiles and gratefulness will fill your heart.
9.  Fundraising Consultancy
Suppose you are someone with great sales and marketing expertise and are looking to do some good to society. In that case, you should most definitely look into starting a nonprofit fundraising consultancy service. First, you will have to create good relations with other organizations and represent them on your behalf.
10. First-Aid Training
In most emergencies, lack of knowledge and the panic-induced due to the lack of it worsen a situation that could have been handled if proper first-aid training was given earlier. If you are passionate about saving lives and believe that they have the skills, then basing a nonprofit around it should be right up your alley.
The nonprofit requires a great deal of initial investment, but the returns are high and morally motivating. As a first aid trainer, your clients would usually come from the construction industry, hotels, clubs, manufacturing plants, etc.
In this progressive world, the above-mentioned ideas can play a vital role in building healthy communities, providing a major contribution in developing economic stability and mobility. Strong, well-resourced planning and decision-making infrastructure acts as a catalyst for these communities in the field of growth and opportunity. These are the voice of the people of all the thriving communities. It is our responsibility to take a step ahead and show our effort to meet a wide range of people with their desired resources.