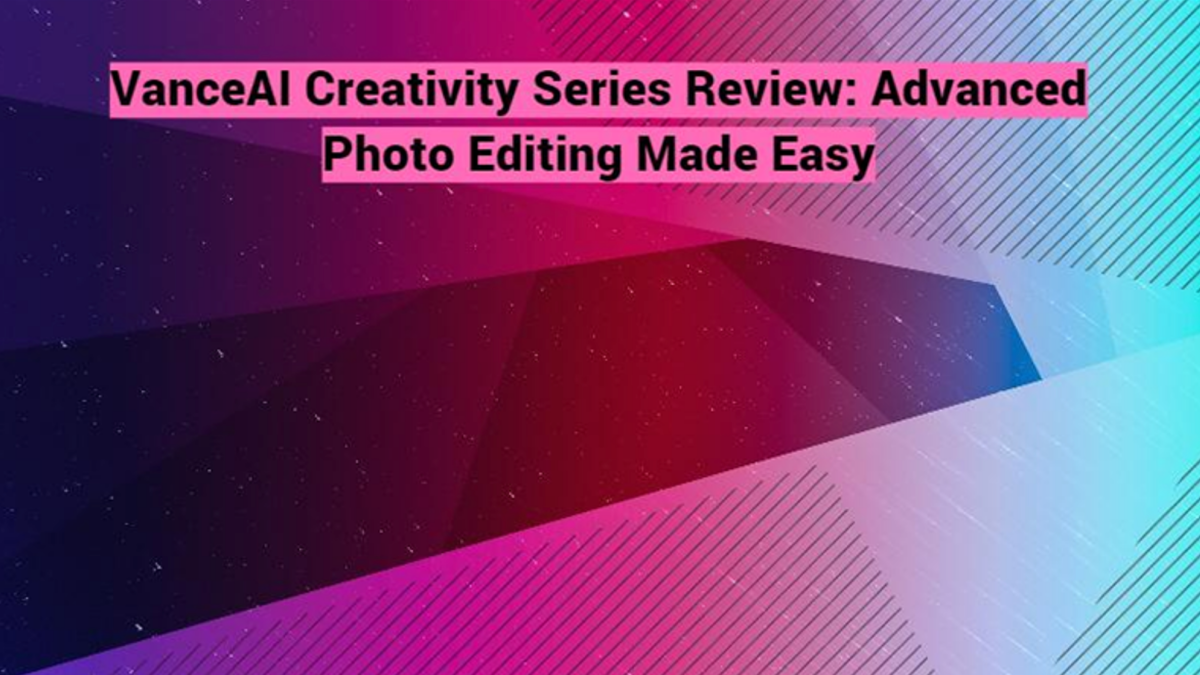 Things such as image cropping, rotating, and basic filtering have become pretty common in photo editing. In fact, you will always find these features in your mobile photo devices as well, which makes it less likely for users to instead go for a photo editing software application. However, there is still an advanced photo editing area that deals with image manipulation on a deeper level, with which users definitely require help and this is where you can turn to VanceAI Creativity series. This series has a collection of advanced photo editing tools that are powered by AI and Machine Learning, automating the photo editing process and as a result, making advanced photo editing pretty accessible to users.
The photo editing tools present in this series are varied and so, they can be used by any kind of user. However, the series will most certainly be a huge help to professionals such as graphic designers, as they are the ones dealing with a diverse set of creative projects at a time and often need inspiration. Some of the tools included in the VanceAI are an old photo restoration tool, photo colorizer, and photo to sketch converter. All of these tools are really approachable since they're built with AI based image processing technology. In this VanceAI Creativity series review for advanced photo editing, we will discuss the features of the tools in this collection while showing the results that they provide.
Pros:
VanceAI is one of the few AI based online platforms offering multiple photo editing tools.
VanceAI usually processes images quickly and offers good performance.
The UI design of VanceAI is highly efficient, especially due to the addition of Workspace.
Cons:
VanceAI doesn't offer image file formats outside JPG, JPEG, and PNG.
Some tools may benefit from the old UI design.
What is VanceAI?
VanceAI is a platform where you will find solutions for a lot of advanced photo editing problems. This application is primarily developed with AI technology, which is why it trains all of its different algorithms so that they can perform optimally live for the users. One of the main takeaways from VanceAI is that it saves a lot of time. Regardless of a user's expertise level with photo editing, preparing good images takes a considerable amount of time. VanceAI excellently combats this through its AI technology which is skilled at automation and providing good performance. However, VanceAI still offers many customization options inside each tool to provide some level of autonomy to the users.
Considering VanceAI is a comparatively young platform for advanced photo editing and has a comprehensive tool list of image editing tools with AI, you can easily subscribe to it. As a user, you would simply have to upload your photos, manage tool settings if needed, and click on a button. After that, the application will go ahead and process your images in a few seconds and show you the output. Not to mention that the VanceAI platform has been getting positive attention from many experts and users thanks to its features and ease of use. Overall, advanced photo editing can definitely become easier than before due to VanceAI's extensive tool set as well as AI technology.
Characteristics of the Creativity Series
Now that you have a fair idea about VanceAI, let's review the Creativity series tools one by one, examining their features and results.
Photo Restorer Can Be Used to Fix Old Photos
VanceAI Photo Restorer is the tool for you if you want to repair old damaged images and enhance their quality at the same time. With this tool, you can bring old photos back to life in a short amount of time. The AI based design ensures that you won't be spending a ton of time on each and every old damaged image. Instead, you can enhance them in bulk with VanceAI. Users don't need to know anything about repairing old images and that is one of the best features of AI based photo editing. Old photo restoration is one of the more advanced photo editing tasks.
With this tool, you can have an additional feature that enables you to colorize the old image. This is not really found in other online image editing applications. The colorization adds another layer of enhancement on the photos.
Image Colorizer Can Be Used to Make Old Photos Colorful
When it comes to any kind of colorization, VanceAI Photo Colorizer is the tool to go to. This AI powered tool from VanceAI is capable of reading any image and coloring it with good accuracy. Not to mention that the colors it applies to images tend to be pretty realistic as well. The above image can be a good example of that. Also, this tool is the kind that can be used by any user. While professionals can get another perspective for their photos, casual users can use this tool to simplify advanced photo editing and get brand new family photos.
Using this tool is pretty simple. You can use the link given to access it and click on the Upload Image option to upload an image. That's it. The tool will automatically process the image and display the results to you.
VansPortrait Helps You Get Vivid Sketch
Converting a portrait or any image into a sketch or an artwork is one of the most advanced photo editing tasks. However, VanceAI's VansPortrait  can make it really easy for you. The tool analyzes a portrait and converts it into a line drawing. A great feature of this tool is that you can choose the kind of drawing that you want. When you upload an image, you will see a variety of drawings that you can select. Your output will look similar to what you select.
The best way to use this tool is to click on the Batch Processing Workspace under the Workspace menu on the home page. You can reach the home page by clicking on the link given above.
Toongineer Cartoonizer Turns Photo into Cartoon Pictures
Similar to VansPortrait, you can also use Toongineer Cartoonizer to simplify advanced photo editing procedures and get creative photos anyway. Also, you can choose whether your image should look more like a cartoon or an anime. You can choose this from the Workspace through the drop down menu on the right hand side. For the best experience, go to the Batch Processing Workspace under the Workspace tab on the main home screen. This tool is a fully creative tool that you can use for many things, depending on your requirements or creativity. If you're an animator, graphic designer, or simply interested in comics, you can use this tool to convert your own photo into a cartoon or anime and have it up on social media. This can make your profile really stand out as not everyone thinks about such tools.
On the other hand, you can simply use this tool for fun and keep playing around with different kinds of images. You can also use the VansPortrait tool along with this to compare the kind of results you get from both. With a paid subscription of VanceAI, you can also batch process 10 images together, so you can get a bunch of creative photos in a short time.
VanceAI Pricing
VanceAI is a pretty flexible platform when it comes to subscriptions. You can easily get started with VanceAI by creating a free account. You can make an account within a few seconds with your Google account. All users get 3 image credits per month for free, which they can use on VanceAI tool.
The paid options start from the annual plan that costs just $5.94 per month for 100 image credits per month. The monthly plan, on the other hand, costs $9.90 per month for 100 image credits per month. Both of these plans can be upgraded to include more image credits per month in exchange for a higher payment. You can also simply purchase 200 image credits for $24.99.
Other than the online subscriptions, VanceAI also offers an API service for specific types of users. If you want to start using VanceAI API, you will need to get a different subscription. The VanceAI API subscription starts from $39.8 per month for 1000 image credits per month. This can be upgraded to up to 10,000 image credits per month at the price of $398 per month.
VanceAI Alternatives
VanceAI offers free alternative websites wherein you can perform similar tasks as the VanceAI tools that we reviewed. For example, you can go to photorestoration.ai if you want to repair old photos for free online. Similarly, you can use colourise.com for colorizing old black and white photos in a short span of time. These tools won't offer the features that VanceAI tools will but they can still offer you good results.
Final Verdict
The VanceAI Creativity series is a really good choice for advanced photo editing because of multiple factors. First, its AI based design allows it to open up to a large scope of audience. Users who are not into graphic designing or image editing software applications can also find a lot of value in VanceAI. Moreover, the AI design is such that users don't have to edit anything. All they have to do is upload images. Second, VanceAI offers some image credits for free as well as the online alternative websites. Even with paid options, VanceAI is pretty affordable and offers good value in exchange for money.