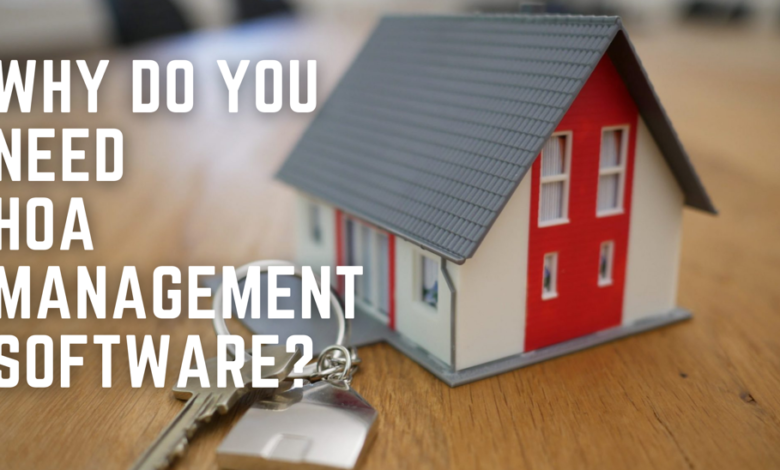 The top names in an HOA community can be challenging to determine which investments are worth the time and investment. The worst that can be done is, allocate resident's funds in a way that it produces really little returns and wastes your time and energy on it.
Well, in all this mess, one important decision that you need to make is, if you want an HOA Management Software or not. Is it okay to invest in such software or would this be a complete waste of your time and money? Let's have a look at the challenges, features, and benefits of a Homeowners Association Management Software.
What Is HOA Management Software?
A rock-solid HOA management software is a comprehensive software that organizes a broad spectrum of information related to the homeowners association. The right software effectively combines and automates the management of each aspect associated with the functioning of HOA that includes resident payments, other financial activities, violation management process to board, and more.
The sole purpose of hiring a real estate and housing IT solution provider is to simplify and reduce the burden on association members and enable more efficient management of the HOA.
What Are the Challenges HOA Faces?
When it comes to talking about HOA, it becomes quite difficult for the board members to manually get all the tasks accomplished without any errors. Some of the major challenges that any house owner association faces are:
Managing Tons of Information
While as a business owner you are focusing on expanding your business and getting more clients, you cannot miss managing all the information that you come across during the process. You need to take care of the upcoming events, bookings, appointments, and everything else. An experienced software developer provides strong resources to upkeep HOA boards on top of their finances and property business. By letting a well-developed software manage your business you can avoid several pitfalls and take your business to the next level.
Maintaining Accounts Manually
Managing accounts for your business transactions is another hideous task that HOA members have to perform. Missing even the smallest transaction would prove to be hazardous when it comes to final auditing. It is critical to maintaining accounts in a way that does not miss any details, and neither there is any confusion.
HOA IT consulting service providers make sure the software solutions that are delivered have advanced systems and can take care of maximum finances without any human intervention.
Finding the Right Vendors
Collaborating with the wrong, unregistered members would result in heavy loss. HOA members need to make sure of all the details like managing landscape, making structural repairs, or preparing a dwelling for your upcoming tenants. When you are looking for trustworthy dwellers, even word of mouth could be quite deceiving. A software solution would have a list of all certified, licensed, and vetted vendors that you can connect with to get things accomplished easily and efficiently.
Preparing the Budget
It is important that HOA has a budget assigned for expenses that you foresee down the road and cover these expenses. One of the greatest challenges HOA board members face is being ready with the reserves and the surprise expenses that may come up. An HOA management software would take care of all the expenses and help you put together a game plan for securing funds down the road.
These are the major challenges when we talk about any HOA. It is important to reduce human intervention and look forward to technology to maintain the functioning of your association well. Let's further see what are the benefits of using an HOA management software solution.
Benefits of Using an HOA Management Software Solution
Tailored to Fit Your Needs
A lot of organizations often opt for generic software solutions, but these do not meet some of the specific requirements that are to be addressed. HOA software is tailored to let you enter in every housing aspect and see details. It allows you to accomplish all the important tasks like collecting money from homeowners as they pay their monthly, quarterly dues as well as any infraction fees.
Not just this, it also looks after all the aspects from accounting to operations to marketing for a big picture, rather than just managing the accounting related details.
Designed to Ease Things for Residents
The software is designed for homeowners and they love it. One can get quick access to all the HOA rules, regulations, and updates through the panel. They can easily make payments and maintenance requests without any hustle-bustle. With all the documents available at a place, it becomes easier for the homeowners to view their assessments and see payment histories.
Thus, homeowners can take a sigh of relief while the software takes care of their finances and other major tasks.
Made to Generate Clear and Simple Financial Reports
Financial reporting is one thing that makes operating quite difficult for the HOA. Surely, not everyone can manage finances well. It is important that the reports generated are transparent and recorded in a way that anyone who needs to examine them can do it without much trouble. Sounds like an interesting solution? Well, it is.
HOA Software makes it easier to record, track, and check the financial deals that make things easier for all. You can even get a clear view of the reports with real-time reporting devices.
Streamlined Operations for Better Results
HOA management is a herculean task to accomplish. The most significant task is to ensure that the dues are collected on time, maintenance is done, and homeowners are satisfied. Missing on any of these cannot be justified. An HOA software automates all the tasks and makes sure that notifications are sent at certain times of the year, and reminder letters are triggered for those who have not paid on time, regulations are enforced and that financial records are accurate.
HOA software makes it possible to generate purchase orders for required supplies directly from the work order for maximum transparency. Along with this automation cuts down on time, money and effort, and increases efficiencies.
Directed Community Communications
HOA members can quickly upload crucial records and rules with homeowners. A direct communication portal makes it quite easy to send out HOA-wide announcements and notices. If you reach the right software development company you can surely ditch the traditional style of keeping records and let technology take care of everything. Updating and modifying the records becomes easier, verification takes less time and the process becomes hassle-free.
Final Words!
Homeowners associations need quality gain when they switch to a trustworthy online web app service provider. Whether you want to keep your information safe, want an easy way to maintain your records, or want to skip the daily reminder schedules, all you need to do is proceed with a HOA management software that is tailored to fit your business needs.
Author's Bio: Scarlett is a tech-enthusiast, and is working with A3logics for a couple of years. She is a techie at heart and loves to pen down the technology-related blogs for the website. She has helped the organization be one of the leading names in the list of top professional IT services firms and is always busy reading about various technologies that can make the business arena better. When she is not a technical writer, she is found sipping her coffee in the nearby cafe with her favorite novel in hand.
Catch her here.