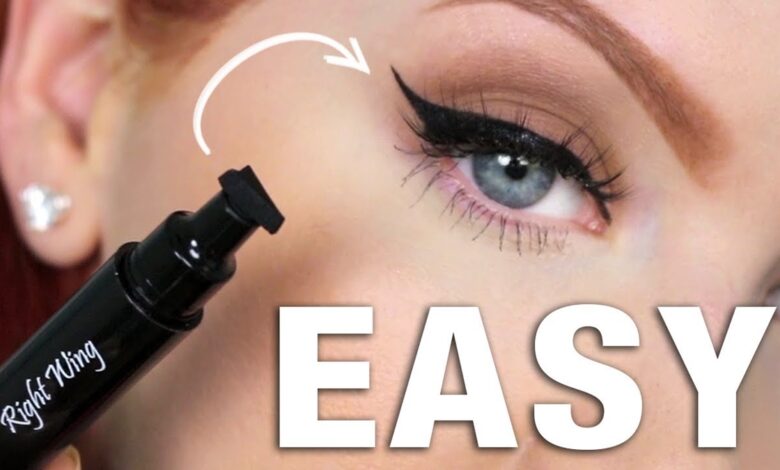 Perfect eyeliner flicks can be so hard to achieve, and spending ages in front of the mirror trying to create flawless, symmetrical wings simply isn't a fun use of time. However, thanks to Lovoir, there is now a way to master that must-have cat-eye look in seconds with no hassle at all. Here, we share how their revolutionary Flick Stick can help you.
Perfect eyeliner flicks that are easy to apply
With the Lovoir Flick Stick, you can say goodbye to frustrating make-up applications as this product makes creating eyeliner flicks super easy. Each set comes with two dual-ended pens, one for each eye, boasting an eyeliner wing stamp end and a liquid eyeliner pen. To apply your eyeliner wing, simply place the stamp end of the pen on the corresponding eye and gently press it onto your skin. The bottom of the stamp should line up with your upper lash line for perfect placement. Once the flick is in place, you can fill this in and carry the line across the top of your lashes to complete the look. Then, repeat on the other side.
With Lovoir's Flick Stick, you can enjoy eyeliner wings that are perfectly symmetrical thanks to its stamp design. This is almost impossible to achieve when trying to draw on freehand flicks, but is made so easy when using this product. The stamps have been created to be identical, so all you need to think about is the placement – which is very easy when you follow the instructions above.
Perfect eyeliner flicks that last all day
Lovoir's Flick Stick has been created using ingredients that will help your eyeliner wings to last all day. With a combination of oils and waxes that ensure a smooth and glossy application, there's no fear of panda eyes when you use this product. Plus, the Flick Stick doesn't contain any animal byproducts and is cruelty-free, making it an ethical choice for everyone – including vegans. This eyeliner stamp is both smudge-proof and waterproof, meaning that you can be confident in its staying power whatever the weather. It is recommended that you use setting powder over your flicks if you're in particularly humid surroundings, but the product has been found to stay put for 24 hours in 99% of situations.
Regardless of whether you've applied your eyeliner flicks for a day at work or a night out, you can be sure that they won't fade or crack, meaning that there's no need to be constantly checking your mirror to reapply them. The Flick Stick's long-lasting formula offers a welcome benefit to all customers, as no-one wants to be wandering around with eyeliner flicks that have been smudged or are disappearing completely! It is recommended that you prime your face before putting on your make-up to ensure that it applies smoothly and stays in place all day. This is a step that you might like to add in before you use your Flick Stick, just to ensure ultimate eyeliner wing perfection.
Perfect eyeliner flicks in different sizes
One of the most exciting things about Lovoir's Flick Stick is that it comes in three different sizes. This means that you can choose a subtle or bold look depending on how you feel or what you're doing. Smaller eyeliner flicks are the perfect option for everyday wear, or for those who are trying them for the first time, whereas larger flicks can make a real statement for those who want to create a striking look and stand out from the crowd. If you're not sure which eyeliner flick size you want, you can buy a set that contains all three pens. This ensures that you have the right pen for every look, and your eyeliner wings can grow with your confidence. Alternatively, choose your favourite and you can always grow your Flick Stick collection over time.
Ready to achieve the perfect eyeliner flick with Lovoir? Head to lovoir.com where you can buy yours today. While you're there, you might also like to check out their amazing reviews and see some of the looks that some of their happy customers have created using their Flick Sticks.