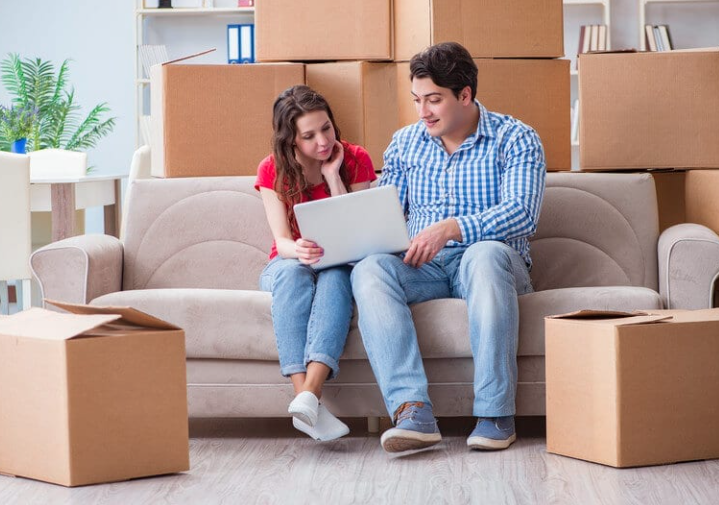 Moving is a significant life event, and it can be daunting to calculate the cost of relocation. However, it's important to note that every move is different, and each individual will have their own needs. The following article will outline some of the costs involved in moving to plan your budget accordingly. We'll cover movers and packers' fees, travel fees, packing materials, liability insurance, professional cleaning services if you're moving out of a rental – everything you need to know about calculating how much your move will cost!
Moving Company Fees
Movers and packers are one of the essential services while moving out. They will help you with the packing and loading process at your home, office, or apartment. Movers can be hired on an hourly basis, or they might charge by the weight of boxes and furniture to be moved.
Movers are usually more expensive than packers because they provide more services such as setting up beds, assembling furniture at the new location, etc. However, you can get a free estimate using a cost calculator at MovingAstute.com. Sometimes movers may not have the capacity to take all your stuff in one go, which means there will be more trips back and forth from the source residence. In contrast, a good mover should move everything in one journey unless it is too heavy for them to do so (which would incur extra charges). The best way to find the good mover and packers is to read reviews, ask friends and family.
Travel Fees
Travel fees are also very expensive in the move when you don't hire movers and packers. This is because unless you have a van or truck, you'll need to either rent one, borrow one from someone else, or use public transport, which can be tiring and costly to your wallet. It's best to do some research beforehand so that you know how much everything will cost – this way there won't be any nasty surprises. Travel fees also differ on where you want to move in. The shorter distance will cost low, and longer distance will be very expensive.
Packing materials
You have to make an endless trip to the shop for the packing materials like durable boxes, bubble wrap, tape, labels, and marker pens. So, it's best to buy all the things you need beforehand to be easier for us when packing at home rather than running back and forth on your day off.
Packing materials also vary in different stores, but you can get them from any store because they're available in every corner of the country. But make sure to check prices before buying your supplies.
Packing is also a stressful task, but if you give it to the packers and movers, it will be time-saving, and they will only arrange all the packing materials; this would save or cut the cost in relocation.
Liability Insurance
It is one of the expenses that you have to do without fail because they will cover up all the costs and damages you have to pay in case of an accident.
To know about liability insurance, first, you need the amount of value for your things like furniture or appliances because it is one of the information needed by the insurer when they ask us for a quote. Second, the cost will also depend on how far you are moving from your current place, which means there might be additional charges if you're going long distances. Still, again this can be discussed with the company, so don't worry much about these factors too much; find an insured packer and movers' company nearby and get them to do everything mentioned before.
Professional Cleaning Services if you're moving out of a Rental
If you live in a rental house and now you are moving into the new house, the old rental house should be cleanly given to the owner as the owner gave us. So, it is your responsibility to keep the house clean after you move out.
If you want to clean the house before giving it back, some professional cleaning services can do this. And they also offer a low-cost package which includes vacuuming and mopping the floor. Cleans out the refrigerator, stove hoods, and range tops should be done too, in addition to walls being wiped down with mild soap water solution as well as light dusting throughout the home, including drapes, furniture, etc.
The services will come into the rental property that you're moving out from and inspect how much work is necessary to get everything up to par. The prices quoted by them are what you would require to pay if services are performed successfully, so don't worry about any hidden costs.
Downsizing move
The cost of the move is also dependant on the size of the move. For example, if you are looking to downsize within the same city, the price will be less than moving out of state or across the country.
The price is also dependant on the company you use to make your move. The more expensive companies will offer a larger variety of services like packing for storage and packaging materials. This may not be necessary if you are looking to get rid of clutter in your house and furniture that's too large or old, so it is best to shop around before deciding which company would work best for you.
Conclusion
You've got a big move ahead of you, but don't worry! We're here to help. As you can see from the list below, many things need to be considered when looking at relocation costs. In addition, it's important to think about how much it will cost to move yourself and your belongings into your new home or apartment and what would happen if something happens during transit in between destinations. So, before you start packing up all those boxes, make sure that you have everything crossed off the checklist first!