The power of social media is enormous. Both nonprofits and brands understand that. Youtube remains one of the prominent tools for personal promotion as an influencer and a product marketing instrument. Youtube likes are massive assistance for buying any potential attention to your channel because they are a measure of social approval on the platform.
Many users will decide if they want to see your video using the number of likes and views as an argument. But what brings many views and likes on Youtube? Of course, engaging and high-quality content! Nothing beats truly interesting and original videos. In this guide are gathered the most effective tips and techniques that will help you to create top-notch videos on youtube.
Gathering The Experience
Before you get to shoot anything, you must examine the niche you are going to squeeze in. Popular industries already hold many influencers, and you must know right away what your competition is. Try to distinguish the most successful blogs and discover the main feature that defines each of them. Uniqueness is one of the main criteria that can not only attract but retain the audience. Looking through successful channels on YouTube is also a valuable source of fresh ideas for your blog. This way, you can distinguish something genuinely original, a feature that will make you stand out in the niche.
Make Your Content Exact
With current levels of competition on the platform, it is better to choose a concrete topic rather than try to embrace the whole industry. Narrow down your range in favor of better quality and accurate information. With a large number of bloggers in practically every niche, that's what users prefer. It is better to concentrate on the chosen topic and increase the range when your influence is established, and people require more from your channel.
Choose The Right Length
The duration of the video is impacting your statistics a lot. If your content is too short, you will get complaints that it is too brief. On the other hand, too long videos are also risky as people can get bored while watching and leave it halfway through.
Think about the appropriate length of the content in your niche. Then, again, look at what your competitors are doing. There is no exact timeframe that your video must keep up to because it depends a lot on the specifics of your topic and manner of expressing the content. But your most significant help here is scenery for your content. Sort out what you will mention and accentuate on your video, re-read your scenery to eliminate whatever makes your content spammy or what is not relevant for your topic.
Create A Schedule For Posting
Consistency is one of three whales that YouTube's popularity stands on. To make yourself noticed on the platform, you must upload new videos constantly. Irregular activity on YouTube leads to losing the audience's interest. So, plan ahead on your posting. The perfect frequency of uploading is about 2-3 videos per one week, but this can be hard to complete for beginners. Once a week would be enough to demonstrate your potential and attract users to your channel. But you must aim for more videos to maintain success.
Know Your Audience
Understanding who you are making videos for is what helps you to define how your content will hit the top engagement rate. Try to distinguish your target group according to basic criteria:
Age
Gender
Profession
Occupation
Average daily schedule
Knowing this will help you create relevant content that will engage and attract a particular group. Of course, you shouldn't limit your videos to only one target group, relying on their age or profession. To get the best result, you should also prospect on the hobbies and interests of your potential viewers, what type of content they prefer, how much time they spend online, and so on. The better you examine your audience, the better will be the result.
Invest In Your Gear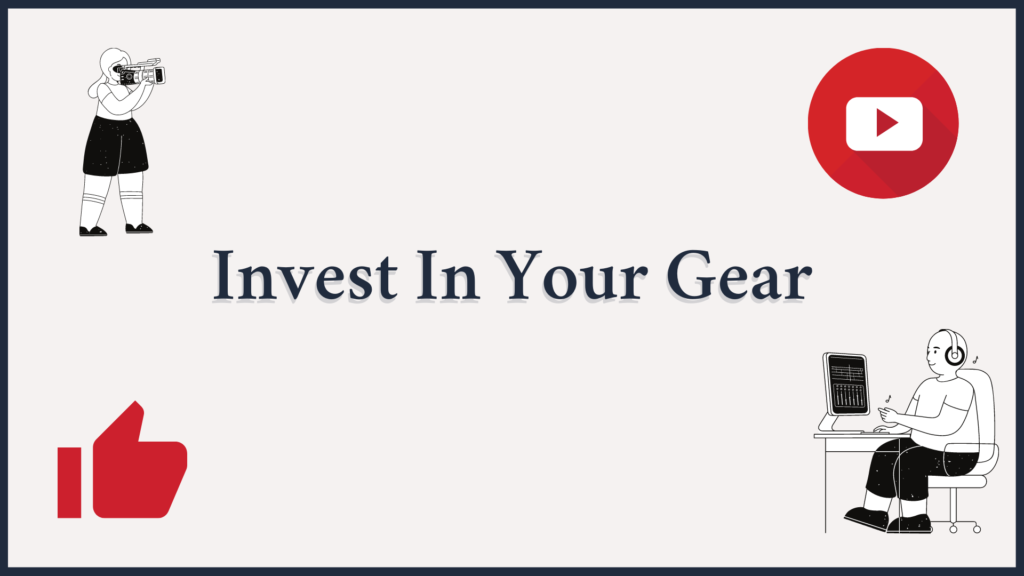 If the budget allows, you should definitely get a better tech for your shooting. Modern viewers are demanding such things. The major part of bloggers on YouTube is using DSLR cameras produced by Sony or Canon. These aren't too expensive, and shoot the video of decent quality. Such cameras are also relatively easy to use, so even a beginner would be able to create good videos. In addition, get a tripod for your camera that will secure a stable image. Most people have shaky hands, and a camera weighs more than a smartphone, so to provide a nice picture for your viewers, a tripod is a must.
Don't forget to improve your props in case you are using these. Your background details should depict your content too, so buying some stuff for style and mood is also a good decision.
Take Care Of High-Quality Sound
Good sound means no less than visuals on YouTube. People prefer videos with clean-sounding that isn't cracking, too loud, or silent. Get a microphone. Some models of microphones are attached directly to DSLR cameras, so using those is a one-click task.
Make sure you film your videos in a calm atmosphere and silent surroundings, so nothing bothers your viewers to consume your content. Also, work on your speech. Develop a steady manner of talking and work on your vocabulary. You don't need to go too geeky about it, but being a pleasant and interesting person to listen to is what attracts people and what motivates them to put likes ad comments.
Learn How To Use Editing Software
For creating engaging videos that capture the attention of your viewers, you must learn how to wield editing software. Without it, you lose a professional impression. There are many high-quality editing programs, like Sony Vegas, Premiere, and Aftereffect by Adobe, Final Cut Pro. But you need to understand how to use them to enhance your performance. If you have time to spare and budget, visit blogger lessons where qualified people will help you understand how the program works and explain what technical criteria for your PC are required for the best results.
Don't Be Afraid To Experiment
It is worth trying to vary your content plan with something fresh to shake up your viewers from time to time. Who doesn't take risks gets no champagne to drink! You can introduce a new video format, try another activity to entertain your followers or add a new feature to your usual content. Besides, experimental videos are an excellent way to monitor your audience's preferences; hence, if your new content is getting many views, likes, and comments, that's your vector for further development.
Communicate With Your Viewers
On YouTube, comments are a vital part of user experience on this platform. For bloggers, this is a place for bonding with people. Here you can discuss the details of the video, know what users think of it, and chat for fun to connect with the consumers of your production.
Keep the friendly atmosphere in your comment section
Be polite, but don't get too official in your speech
Add a bit of wit and create inner community humor to strengthen the bond between you and your subscribers
Offer topics for discussion by yourself – in the video and comments as well.
Take care of what is happening in your comments, report spam, and block away trolls
Be ready for criticism and work out the patterns of healthy discussion.
Do What You Love
There is nothing more engaging to viewers than a genuinely passionate person about the topic they cover on the YouTube channel. Choose the industry for your blog that you really love and that gives you inspiration and energy for creating videos. This is what people want to see and why they come to social media. Your energy can be transferred to viewers through their screens, and thus you will present them with good mood and positive emotions. These are colossal interest hooks for other users who will want to catch your spark too. Genuine interest in the niche you occupy is also what makes you understand the subject deeper and be a professional.
Don't Try Too Hard
The ultimate goal for engaging content is when it is created quickly and seems effortless for your viewers. Yes, filming itself can be challenging, but that is not what your audience wants to see, because majorly, they come for entertainment and relaxation.
Also, never make your promotion too evident for people because they don't like that and get crabby when you stick your content right into their noses. Instead, be patient and concentrate on the quality of your content, making your promotion subtle and intelligent.
Conclusion
Due to the level of competition on YouTube, it can be hard to create engaging videos. Newcomers to popular industries have to be patient and aim their efforts to create top-notch content rather than gain the subscriber base. Sometimes, it is better to have fewer people sticking around with you and have them active and appreciating your work.